December 4, 2015
Today's photo depicts Western Cable Railway Company's Engine No. 4 hauling Falstaff beer in refrigerated railroad cars past the Lemp Brewery facility. The date is between 1917 and 1927, according to the Missouri History Museum.
Nearby Cherokee Street is home to several great events this weekend.
The 32nd Annual Cookie Spree will take place on Saturday and Sunday from 11 a.m. to 4 p.m. on Cherokee's antique row. The event features live music, raffles, prizes, trolley rides, carolers and more.
The Print Bazaar on Cherokee celebrates the art of printmaking on Cherokee Street on Saturday from 10 a.m. to 6 p.m. at most of the Cherokee businesses west of Jefferson.
Finally, Westminster Press will hold its free grand opening celebration and show at 6 p.m. Saturday. Their location features an art gallery, consignment shop and printmaking studio. The event will include art, shopping, live music, food and drinks.
You can take MetroBus to the Cherokee events via the #11 and #73.
Have a great weekend!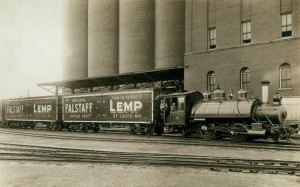 Return to Blog
Categories:
Flashback