July 29, 2016
Flashback Friday!
According to Andrew D. Young's St. Louis and its Streetcars, this photo from the Museum of Transportation shows a city cleanup day. During the city cleanup days, school children were bused in from all areas to help. With charter buses unavailable during WWII, streetcars were used.
The photo was taken on April 20, 1945 and showed a line-up of streetcars on 14th Street, stretching from Clark Street across the bridge to Chouteau Avenue. The streetcars transported the school students back to their respective schools at the end of the day.
Young identified the three men in front of the first car as motorman W.J. Franklin, conductor Hallie E. Miller and trailer car conductor Frank Brinker.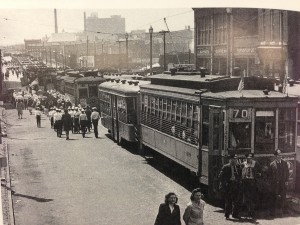 Return to Blog
Categories:
Flashback