June 6, 2014
On March 12, 1964, Bi-State Development Agency arranged press showings of its 50 newly purchased air conditioned buses. The new additions to the fleet were supplied by General Motors (40) and Flexible Company (10).
The buses were shown to the press at Bi-State's main shop yard in St. Louis. The new buses were also placed on public display at selected locations around the area.
According to the Museum of Transportation, the photo below is one of the new buses at a demonstration point in the heart of Downtown St. Louis. It was displayed right outside of the Old Courthouse.
This particular vehicle was visited by nearly 2,000 people in the two days it was on display there.
And just this morning, about 50 years after this photo, Metro held a similar event at the Grand MetroLink Station where two newly refurbished articulated buses were on display at a ceremony. The new jumbo-sized buses are set to go into service on Monday on the #70 Grand route! Click here for more details.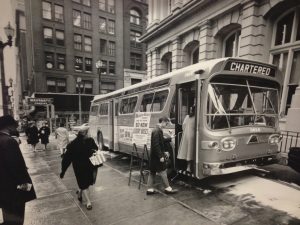 Return to Blog