June 12, 2015
Were you able to guess the year and location of today's Flashback Friday photo?
The #99 Downtown Trolley is not the only downtown circulator bus that has traveled St. Louis' downtown streets.  Remember the Levee Line?
Decked out in a riverboat-inspired design (complete with smokestacks) the Levee Line operated in the late 1980s, traveling down Lenore K. Sullivan Boulevard, through Laclede's Landing, up Washington Avenue, looping around 9th Street and Broadway, and rolling up Market Street to Union Station.  The Levee Line served the downtown area and was popular with tourists and conventioneers.
This scene is of course near Market Street in front of the Old Courthouse, just steps away from tomorrow's big Komen Race. Ride Metro to Komen and find more information about the race here.
Happy Friday!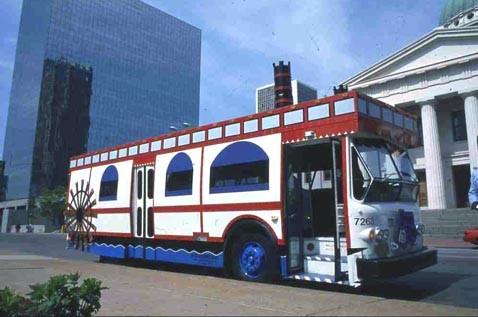 Return to Blog
Categories:
Flashback