March 8, 2013
Flashback Friday: A Stop Along One Of Metro's Busiest Routes 50+ Years Ago
Return to Blog
It's time to reveal Flashback Friday answer! Where and when was this week's Flashback Friday photo taken?
This photo provided by the Missouri History Museum was taken almost 60 years ago on October 28, 1953.
The photo shows a bus stop at the northwest corner of Grand Avenue and Chippewa Street, looking south on Grand.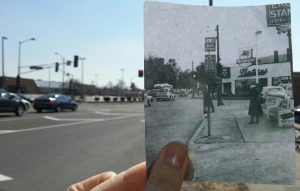 The photo was taken by Richard Moore. It shows a woman waiting at the bus stop. At the intersection you can see Netties Florist and a Mobil gas station. The former florist building is now an Internet and cell phone store.
The intersection is a busy one still for MetroBus. One of the most used routes, the #70 Grand stops right where the woman was waiting in 1953.
Here are some comparisons of Grand and Chippewa then and now.
Return to Blog
Categories:
Flashback