July 26, 2013
Were you able to guess when this week's Flashback Friday photo was taken?
The date was Friday, June 24, 1994. President Bill Clinton made a trip to St. Louis for a fundraiser and to speak in Fox Park about the Summer of Safety and the benefits of urban living.
His transportation choice from Lambert Field? A gleaming MetroLink train.
According to the Post-Dispatch the next day, "with the help of John Leary, the executive director of the Bi-State transit system, and in front of the news media, Clinton used a Susan B. Anthony dollar to buy a MetroLink ticket. The president appeared to be the only paying passenger among the dozens in his entourage – including the press and elected officials – who rode the train with him. Although it didn't make any of the usual stops before Union Station, the train slowed enough so Clinton could wave at the would-be passengers standing on platforms.
"The most honored seat – Clinton 's lap – went to 6-year-old Michael Brasher. The boy's parents, Bill and Patricia Brasher of Richmond Heights, are friends of (Richard) Gephardt.
"Clinton heartily praised the ride to his nearby passengers, which included U.S. Transportation Secretary Federico Pena."
Happy Friday — and Happy 20th Anniversary to MetroLink!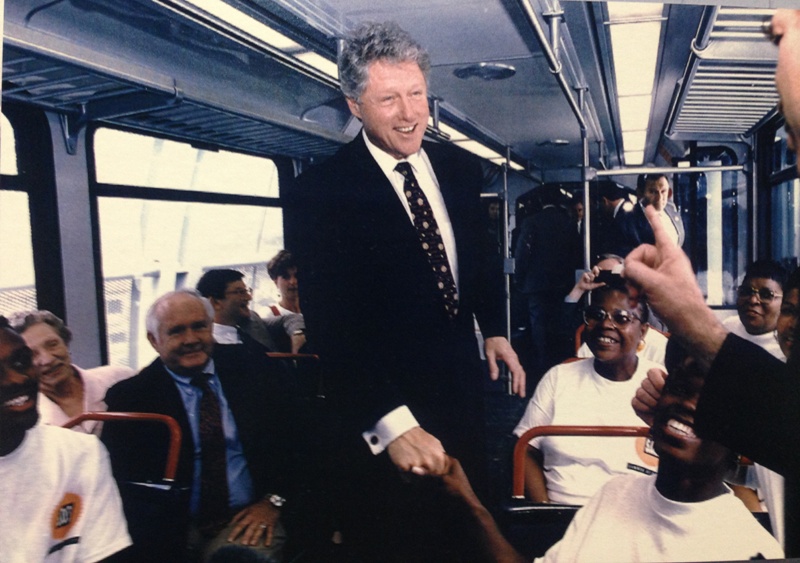 Return to Blog
Categories:
Flashback
,
Metro Lifestyle