July 12, 2013
Were you able to guess when this week's Flashback Friday photo was taken?
This photo was taken in the mid-1940s along Third Street at Olive looking north towards Laclede's Landing. At the time, the riverfront had been cleared but not yet developed into the massive parking lot that would in turn be replaced with the Arch Grounds. Third Street, now the depressed lanes of I-70,  was converted into a bus parking lot. Next time you go near the landing you'll notice the Landing building bearing the words 'Witte Hardware Company' still stands.
Below is a shot of the same vicinity taken today.
Happy Friday!
Photo courtesy of the collection of Joe Sonderman. Check out his website and books at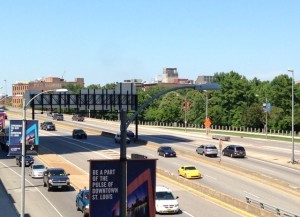 Return to Blog
Categories:
Flashback