February 8, 2013
Flashback Friday: Mardi Gras Parade Route Ending In 1956, Old 'Budweiser' Sign
Return to Blog
Flashback Friday is here to help you get ready for Mardi Gras. I already have my purple, green, and gold feathered headdress ready.
The Mardi Gras parade route starts at Busch Stadium and makes its way through Soulard to the Anheuser-Busch Brewery.
In this week's Flashback Friday, we take a look back at South Broadway in 1956, right outside the brewery.
According to Andrew Young's book Streets & Streetcars of St. Louis, this photo shows northbound Car 1784 about to cross the brewery-owned Manufacturer's Railroad tracks on Dorcas Street.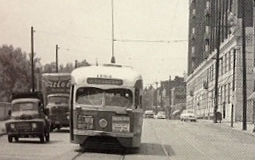 The right-hand car card advertises the Municipal Opera open-air theater in Forest Park. The left-hand car card urges the public to "Vote for and elect James Patrick Lavin, Sheriff of St. Louis, civic minded Democrat," according to Young.
According to Anheuser-Busch records, a custom neon sign has been on top of the Bevo building for more than six decades. The large Anheuser-Busch sign shown in our Flashback Friday picture was replaced in 1979 with a Budweiser sign.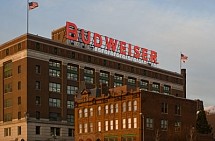 The Budweiser sign is currently undergoing renovations to retain its famous classic style and design. The new sign will be brighter and use LED technology. It will be better able to withstand exposure to the elements.  The new sign will be illuminated with Budweiser red and retain the same signature block typeface of the existing Budweiser sign – the font that also was used on Budweiser packaging the year the sign was first erected.
The intersection shown in this photograph will be filled with crowds, beads, and floats come this Saturday.
Everyone have a safe and fun Mardi Gras. Remember the easiest way get there is to take Metro's Special Shuttle Service.
Return to Blog