April 26, 2013
Freeze Frame! Sorry J. Geils Band, we celebrate Flashback Friday, not Sunday at Metro!

Can you guess when and where this photo provided by the Missouri History Museum was taken?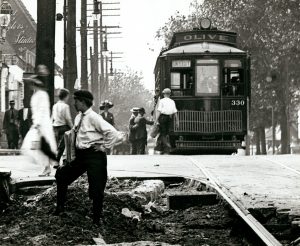 According to the Missouri History Museum, this photo was taken in 1907 on Olive Boulevard looking west toward Grand Avenue.
The picture shows riders boarding the #330 Olive Streetcar.
Personally, my favorite thing about this photo is the fashion. Check out those newsboy caps!
The year this photo was taken, a very delicious theme park opened. Hershey Park opened in April 1907 in Hershey, Pennsylvania.
Return to Blog
Categories:
Flashback