December 21, 2012
Flashback Friday: People's Motor Bus Company and Jefferson Hotel in the 1930s
Return to Blog
Flashback Friday time!
The 1930s brought a lot to the United States: The Empire State building opened, the first frozen food went on sale, Life magazine published its first issue, and in 1939, President Roosevelt became the first President to give a speech broadcasted on television.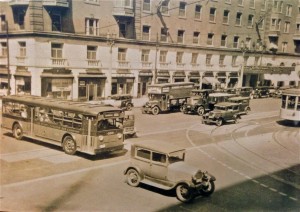 Back in St. Louis in the early 30's, plans to build a riverfront memorial to honor Thomas Jefferson began. This memorial would later include the Gateway Arch.
In this photo taken in the early 1930's you can see the People's Motor Bus Company bus #658 on North 12th Street. The People's Motor Bus Company operated beginning in 1923, in competition with the streetcars. Those buses were taken over by the St. Louis Public Service Company in 1934.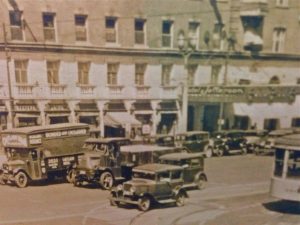 In the background of this photo you can see the Jefferson Hotel. According to the University of Missouri St. Louis' Virtual City Project, during the 1930's, the Jefferson Hotel was the site of many meetings held to develop plans on the Thomas Jefferson riverfront memorial.
After going through extensive renovations during the 1970s, the Jefferson Hotel reopened as the Jefferson Arms Apartments and closed nearly six years ago. More recently, according to the St. Louis Post -Dispatch, the Jefferson Arms is looking forward to a $106 million makeover.
Return to Blog