March 29, 2013
It's Flashback Friday time! Put on your one-piece leather outfit and Cher wig, because we are about to Turn Back Time.
Were you able to guess when and where this week's Flashback Friday photo courtesy of the Missouri History Museum was taken?
The hint was that the photo was taken around the time that Rogers Hornsby replaced Branch Rickey as manager of Cardinals.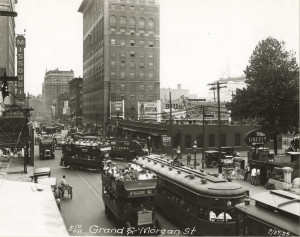 This photo provided by the Missouri History Museum Cross-Collection shows Grand Avenue south from Morgan (now Delmar) Avenue on July 27, 1925.
The photo, taken at 5:10 p.m., highlights what rush hour was like with streetcars and buses.
Speaking of buses, did you know that Monday marks the 50th anniversary of MetroBus? As part of the celebration, four tickets to the Cardinals home  opener on April 8 will be given away. Entry the drawing before 4 p.m. Monday (April 1). (put the link to entry page on Enter the drawing.
Return to Blog
Categories:
Flashback