May 3, 2013
Flashback Friday: Street Packed By Double-Decker Bus And Streetcar
Return to Blog
Have no fear! Flashback Friday is here!
Were you able to guess when and where this photo courtesy of the Missouri History Museum was taken?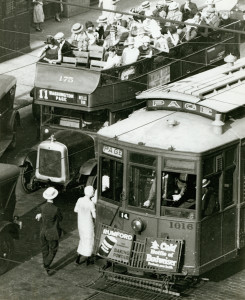 The small hint was that the first electric razor was patented during this decade.
This photo was taken sometime in the 1920s on Washington Avenue in downtown St. Louis. The photo shows a streetcar and a double-decker bus, side by side.
The bus is an open air double-decker, unlike the famous double-deckers of modern London.
According to UMSL's Virtual STL, downtown St. Louis bustled with activity in the 1920s. The city's population grew larger, buildings soared higher, and more automobiles filled the streets. In fact, one of the major problems facing the city was congestion.
Another problem St. Louis faced in the 1920s was Prohibition. St. Louis was a major beer brewing town and with the prohibition on alcohol sales, the local economy suffered a huge blow.
Return to Blog
Categories:
Flashback