February 1, 2013
Flashback Friday: Washington Avenue and 7th Street in 1925 and Today
Return to Blog
Ffffffflaaaassshback Frrrrridaaaay time! (I've had a lot of coffee this morning.)
 The Mercantile Exchange redevelopment project in Downtown St. Louis near Washington Avenue and 7th Street is right by our Convention Center MetroLink Station. According to their website "The MX began welcoming visitors this spring with the opening of Pi Pizzeria. Energy in the MX is building and will embrace retail, dining, entertainment, arts & culture, hospitality and residential living, following in the tradition of this area of downtown which links the Convention District to the Arch along Washington Ave. (recently named one of America's 10 Greatest Streets) and to Busch Stadium and Citygarden along 7th (one of St. Louis' best streets, from Dome to Ballpark)."
Did you ever wonder what that area located right by America's Center looked like back in 1925? Well, today is your lucky Friday!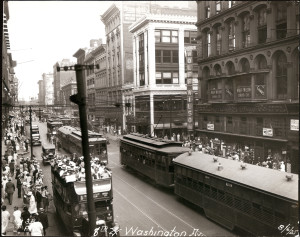 This Flashback Friday picture courtesy of the Missouri History Museum was taken on August 6, 1925 at precisely 4:38 p.m. The picture is Washington Avenue looking east toward 7th Street. You can see streetcars, trolleys, and lots of pedestrians.
Below is what the intersection at Wash Avenue and 7th looks like today! Google Maps must have caught it on a slow day! Today, that intersection is home to multiple new shops, restaurants, a brand new movie theater, and America's Center! It is all just steps away from the Convention Center MetroLink Station!
For more information on The MX, click here.
You can find today's Missouri History Museum photo and other historical photos online by visiting the History Museum's digital photo library.
Return to Blog
Categories:
Flashback