April 7, 2013
Forest Park Trolley Service to Return to Forest Park Starting Monday, April 8
Return to Blog
Forest Park Forever, Missouri History Museum, Saint Louis Art Museum, Saint Louis Science Center, Saint Louis Zoo, City of St. Louis, Metro Transit and the Missouri Department of Transportation (MoDOT) announced that the Metro Forest Park Trolley will return to Forest Park on April 8 giving individuals visiting Forest Park a convenient method of navigating the Park, in addition to assisting to alleviate Park congestion!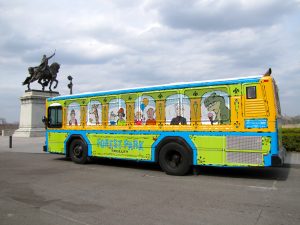 The Metro Forest Park Trolley Service line will operate daily from 9:00 a.m. – 5:00 p.m. from April 8 through September 29 and weekends only in October with extended summer hours, 9:00 a.m. – 7:00 p.m., Memorial Day weekend through Labor Day. It will connect all park attractions, as well as the Forest Park-DeBaliviere MetroLink Station. Adult Trolley fares are $2 per adult. Children 5-12, seniors and disabled passengers ride for $1. A valid Metro Reduced Fare permit is required for the Senior and Disabled discount. Kids four and under ride free. Two convenient Park N' Ride options are available for visitors:  the Twin Parking Lots across from the Dennis & Judith Jones Visitor and Education Center and the Upper Muny Parking Lot.  From these lots, visitors can hop aboard the Forest Park Trolley for a lift to their desired attraction.
The Traffic Relief Route will also be returning this season. It will be implemented by the Park Rangers on days when traffic congestion is heavy at the Hampton entrance. This effort is done in coordination with MoDOT as a means to mitigate backups and closures on the interstate at Hampton. Similar to last year on heavy traffic days, drivers from Hampton will make a circular path through the park, past many parking lots at The Muny, Visitor Center, along Government Drive and both Saint Louis Zoo lots. 
Relief Route hours and timing:
Will be implemented as needed on heavy traffic days by the Park Rangers starting April 8 (please refer to the Traffic Relief Route map)
Forest Park Trolley hours and timing:
9:00 a.m. to 5:00 p.m., daily, April 8 through September 29 and weekends only in October. Weekday service will be every 20 minutes and more frequently on weekends.
Extended Summer hours, 9:00 a.m. to 7:00 p.m., daily, Memorial Day weekend through Labor Day (Saturday, May 29 – Monday, September 2.)
During Friday, Saturday and Sunday trolley operating hours, the #90 Hampton MetroBus may reroute outside the Park. This will improve the on-time performance of the #90 Hampton and reduce the number of MetroBuses in Forest Park. Contact Metro regarding the #90 Hampton schedule at 314-231-2345.
Forest Park Trolley Rider Tips:
Fare is purchased on-board the Trolley, exact change required (paper or coin).  Each Trolley ticket allows unlimited on & off privileges for the day the fare is purchased.
Metro Day, Weekly and Monthly Passes are acceptable fares for the Forest Park Trolley.  Day passes are available at Metro Ticket Machines located on MetroLink platforms.
Trolley Head Signs – Forest Park Trolley vehicles coming from the Forest Park-DeBaliviere MetroLink station are identified as Southbound – To Science Center.  Forest Park Trolley vehicles heading toward MetroLink are identified as Northbound – To Forest Park MetroLink Station.
The Forest Park Trolley is fully accessible.
Information on Obtaining Senior Reduced Fare Permits
Seniors (age 65 and older) and the disabled can ride MetroBus and MetroLink at a reduced rate. Qualifying individuals must complete the following:
Apply in person at the MetroRide Store  – 701 Convention Plaza St. Louis, MO 63101 – or at one of Metro's mobile registration events.  MetroRide Store hours: Monday – Friday, 8:30 a.m. to 5:00 p.m.
Show a government issued picture identification card verifying age (age 65 and older) Acceptable forms of identification include a state vehicle driver's license, state ID, passport or alien registration card.
Return to Blog
Categories:
Rider Alert