October 11, 2012
Fredbird Invites Families to Ride MetroLink With Him to Child Safety Day at The Pageant on Saturday
Return to Blog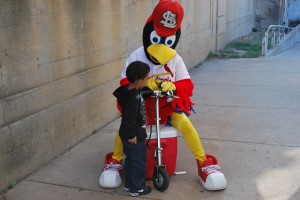 Bi-State Development Agency/Metro is committed to improving the quality of life in the St. Louis region. In addition to providing excellent public transit and to promoting economic development, MetroBus vehicles and MetroLink trains are designated as mobile safe places for children and adults who need help.  As part of our commitment to a safe and strong St. Louis region, Metro is participating again this year in Child Safety Day this Saturday, October 13 at The Pageant at 6161 Delmar Boulevard.
Fredbird will kick off Child Safety Day on MetroLink. He will board the 10:10 a.m. westbound MetroLink train at the Grand MetroLink Station and ride to the Delmar Loop MetroLink Station and then walk over to The Pageant for Child Safety Day. He is inviting Bi-State area families to join him on the trip because along the way, he will give away Cardinals merchandise to fans on the MetroLink train. Children 4 and under ride free on Metro. Children 5 and older and adults must have a valid Metro fare or pass.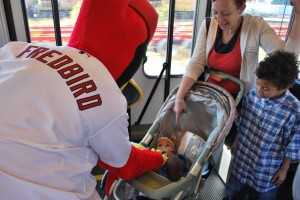 The 6th Annual Child Safety Day which is from 10 a.m. to  2 p.m. at The Pageant (6161 Delmar Boulevard) is a fun event for children and is one stop shopping for parents when it comes to information about keeping their children physically, emotionally, and socially safe. The St. Louis Metropolitan Police Department, Missouri Highway Patrol, St. Louis Fire Department, St. Louis Cardinals, BMO Harris Bank, Home State Health Plan, INOBTR (I know better), Page Law, BJC, St. Louis Children's Hospital, Metro and other local businesses and groups are teaming up to help keep kids safe.
Child Safety Day is free and is geared toward teaching families in a fun environment how to stay safe on the street, safe in the car, safe on bicycles, safe around strangers, safe on the Internet and safe at home especially during home emergencies like fires.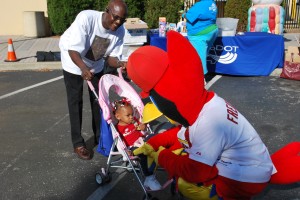 Metro will educate children about safety around trains—not playing or walking on railroad tracks and not trying to beat the train by walking or riding their bicycles around the warning gates. It's part of the Operation Lifesaver program.
Among the other Child Safety Day activities, there will be free flu shots for children and adults, DNA kits and fingerprinting, free fitted bike helmets (while they last), child's bike giveaway, Medicaid information, fire, auto, and first aid safety, college planning, storytelling, and special units from the Metropolitan St. Louis Police Department and the Missouri Highway Patrol. Parents can also register to win a classroom/daycare party with Fredbird.
Return to Blog