June 9, 2014
Metro transit's first articulated buses officially hit the streets this morning on the #70 Grand Line, and to celebrate the occasion, Fredbird from the St. Louis Cardinals, the Billiken from Saint Louis University and Sam Safety from the St. Louis Metropolitan Police Department surprised MetroBus riders at our Grand MetroLink Station stop.
Mystery guests like Fredbird, the Billiken or Team Metro will surprise customers on the #70 Grand Line and hand out little trinkets as part of "FunDay Mondays" this month.
Every Monday for the rest of June, Metro will celebrate the 60-foot buses going into service and to thank our customers for their continued patience in dealing with the overcrowding issues on the #70 Grand Line.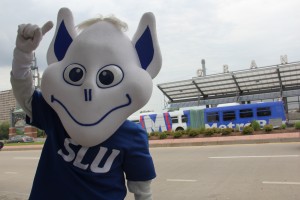 The #70 Grand Line, which records the highest ridership of any MetroBus route, sees about 9,000 boardings each weekday.
Thousands of people depend on it to get to work and school, as well as to medical appointments, entertainment, dining and shopping venues.
Several 60-foot articulated buses began serving customers on the #70 Grand Line today and by the end of the year, a total of 15 articulated buses will be in service.
Additional articulated bus blogs:
Created with Admarket's flickrSLiDR.
Return to Blog
Categories:
Metro Lifestyle