October 17, 2011
FTA Announces $3.8 Million in Federal Grants for STL Bus Rapid Transit, I-55 Corridor Study, Clean Buses
Return to Blog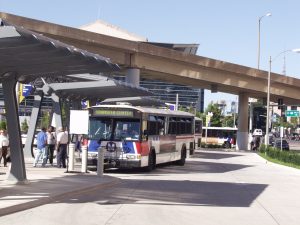 Update: The term "bus rapid transit has been removed from the $2 million grant award; this current award is for articulated bus service.
The Federal Transit Administration (FTA) today announced its support for applicants to the Alternative Analysis, State of Good Repair, and Bus Liveability discretionary grants program. Metro St. Louis has been awarded $3.8 million for projects that will help improve the delivery and service of transit in the St. Louis region. What do each of these grant awards mean?
$2 million for articulated buses and related equipment. This grant is for articulated buses and related infrastructure along the Grand Avenue corridor. The grant is among the first Metro is pursuing to bring expanded service to the popular Grand route.
$970,000 for bus-related equipment (to improve emissions technology in our clean diesel MetroBus fleet).
$677,000 for transit asset management program. This grant will allow the Agency to create a unique asset management program to assess the state of all transit vehicles, buildings, and facilities, to be used as a national template for other transit agencies.

$200,000 for I-55 corridor study. This grant
allows Metro and its partners (MoDOT, East-West Gateway, St. Louis City and St. Louis County) to evaluate the costs, benefits and environmental impacts of transit options along the I-55 corridor.  Options include expanded bus service, bus rapid transit, and light rail service. Metro has applied for grants to study other major interstate corridors; I-55 is the first to receive funding support from the FTA.
The FTA has formally supported these grants, and final FTA approval is expected sometime next year. This is a major step in seeing improved transit service in St. Louis.  For more on Metro's long range plan for transit improvements, see Moving Transit Forward. We'll keep you updated on project developments.
Return to Blog