April 30, 2015
Gateway Arch Museum and Visitor Center Renovation Begins
Return to Blog
The Gateway Arch's museum and visitor center will have a new front door when it opens to the public in 2017.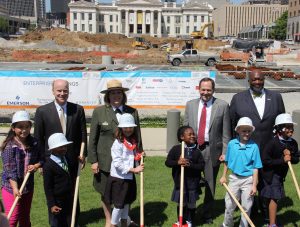 CityArchRiver2015 project partners and area leaders gathered Wednesday at the future site of the entrance into the Gateway Arch to celebrate the groundbreaking of the museum and visitor center renovation. The renovation is one of the largest components of the $380 million CityArchRiver project and will redesign the museum and expand the visitor center by 46,000 square feet.
The new visitor center will bring the entrance of the Arch into downtown St. Louis and provide impressive views of the city, and the museum will display exhibits in new, interactive and engaging ways.
As part of CityArchRiver, Bi-State Development Agency is also partnering with the City of St. Louis, Great Rivers Greenway and the National Park Service to establish an enhanced bike trail along the Mississippi riverfront. More than 900 businesses, foundations, individuals and families throughout the region have donated to the CityArchRiver project.
The Bi-State Development Agency has been involved with many facets of the Gateway Arch experience. The agency financed the tram system in the Gateway Arch when it was constructed 50 years ago and has operated the trams since they first opened to the public in 1967. BSDA also owns and operates the Gateway Arch Riverboats.
Return to Blog