March 18, 2014
Gateway Arch Riverboats Celebrate 50 Years of Cruising the St. Louis Riverfront
Return to Blog
As the Gateway Arch approaches its golden anniversary, the Becky Thatcher and Tom Sawyer riverboats on the St. Louis Riverfront are already turning 50.
The riverboats were put into service five decades ago when the Gateway Arch was under construction.  Area residents and visitors to St. Louis were very curious to see how the unusually shaped stainless steel national monument would be built. Some of them were able monitor the construction progress from unique but safe vantage points on the Tom Sawyer and Becky Thatcher riverboats.
Both paddle wheel riverboats were built in Dubuque, Iowa in the early 1960s and they have been cruising the Mississippi River at St. Louis ever since. Since 1964, more than five million people have participated in sightseeing cruises, dinner cruises or charters. In order to keep the riverboats on the St. Louis Riverfront as part of the Gateway Arch experience, Bi-State Development Agency/Metro was asked to purchase the boats. We have owned and operated them since 2001.
The 2014 cruise season is already underway, having kicked off on March 1. A new buffet menu and variety of cruises are offered: one-hour sightseeing cruises and skyline dinner cruises, as well as specialty cruises including Sunday brunch cruises, Blues cruises and Oktoberfest cruises. We have recorded as many as 134,000 sightseeing cruises, 20,000 dinner cruises and 8,000 charter passengers in a season.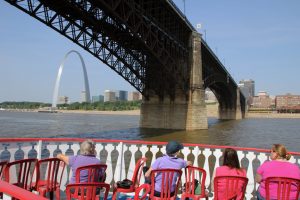 The riverboats are located below the south leg of the Gateway Arch at 50 S. Leonor K. Sullivan Boulevard. The riverboats will continue to cruise while Leonor K. Sullivan is under reconstruction as part of the improvements for the Gateway Arch's 50th birthday celebration. You will want to allow extra time to navigate through the downtown construction detours so you don't miss your cruise and leave plenty of time for your visit to the Gateway Arch which will also remain open during construction. Parking is available on the levee in front of the boats and you can find updated directions and parking information on the Website.
Public transit is an option too. Take MetroLink to the Arch-Laclede's Landing Station or #40 Broadway MetroBus or  #99 Downtown Trolley to 4th and Pine Streets.
The Arch View Café next to our riverboats is a great place to grab a burger or sandwich for a great price. The cafe will be open on from 11 a.m. to 3 p.m. on Saturdays and Sundays in April and then daily starting in May.
Return to Blog