September 18, 2012
Gateway Eagles of Missouri Bring Aviation to Life for Some Area Youngsters at St. Louis Downtown Airport
Return to Blog
"I was scared at first, but I want to go again," said 9-year-old Brandi right after her first ever plane ride in a Cessna 172. The free flight was part of the 18th Annual Youth Aviation Day, sponsored by the Gateway Eagles of  Missouri (GEM) at St. Louis Downtown Airport in Cahokia, Illinois on Saturday.  Her 13-year-old cousin, Johnathan, said the flight was awesome and things on the ground "looked like little ants" to him. He said he would tell other children to try flying– "it's fun." This was also his first ride in a small aircraft. The cousins both live in St. Louis and were happy their grandmother, Linda Benoit, brought them to the September 15th event.
Brandi and Johnathan's pilot was Kurt Lewis who is a flight instructor for Southern Illinois University Carbondale (SIUC).  Lewis said SIUC donated two airplanes, fuel and pilots for the event and they flew the planes from Carbondale to St. Louis Downtown Airport to be part of the event to give Brandi, Johnathan and other children free plane rides.
Lewis said he likes to share aviation with people who are passionate about it, especially younger people. He's been flying since he was a youngster himself and he grew up hanging around the airport in Rockford, Illinois. His dad was a glider pilot.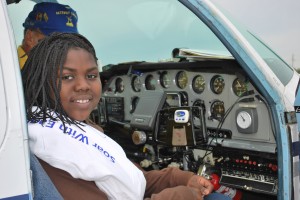 GEM introduces children, especially minority children, to the many careers and opportunities that aviation offers. A total of nine planes owned by various entities along with 11 pilots were donated to the GEM Youth in Aviation event and 60 children were given free rides this year.
Six of the children who went flying were from the Boys and Girls Clubs of Greater St. Louis. They took  their plane rides in two groups of three. When the second group landed, it was all smiles and the children were so excited, they all talked at once as they tried to tell each other about their own experiences. A couple of youngsters said after the first few seconds, it wasn't scary. They all agreed it was a fun experience.
On a different flight, 8-year-old Ernest did not hesitate for a second when the pilot asked who wanted to ride in the front seat. He spoke up and quickly positioned himself as co-pilot. Ernest's great grandmother actually took flying lessons at St. Louis Downtown Airport in 1946 when it was called Parks Metropolitan Airport. She was part of the Civil Air Patrol. Her son, Ernest's grandfather Harold Moss, is the president of GEM so it should not come as any surprise that this confident youngster, who is so comfortable in the cockpit, said he wants to become a pilot.
Metro owns and operates St. Louis Downtown Airport and its surrounding industrial business park.
Return to Blog