January 6, 2010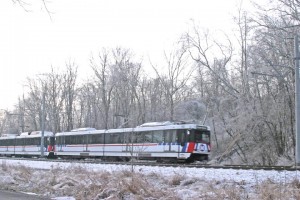 It's that time of year in St. Louis – INCLEMENT WEATHER!  St. Louis weather is notoriously fickle, jumping from a blustery chill to warmer temperatures in a matter of days.   Metro Transit Operations has to be ready for the worst wintery weather, including snow and ice, and all of the slushy, slippery and wet conditions that follow.  The following actions go into preparing the system for snowy weather:
Sidewalks, platforms, and parking lots
Maintenance crews are mobilizing to remove snow and ice from sidewalks, parking areas, and MetroLink platforms. We keeps large containers of salt on platforms for easy application. Locations with the highest number of passengers receive priority attention, but Metro addresses needs at all locations.
Keeping MetroLink running
MetroLink trains operate on steel rails and are powered by electricity delivered by wires above the trains. Heavy ice and snow buildup on the rails and wires make operation difficult or impossible. Wires in locations prone to ice build-ups already have been protected by the installation of wire caps designed to minimize electrical faults caused by wet weather. The trains are also equipped with heated, ice-cutting mechanisms that use a hard surface to cut through any ice or snow that collects on the overhead wires. Using the ice cutters require the trains to reduce their top speed to 45 mph from the normal 55 mph. If the tracks get too slippery, boxes inside the train will drop sand onto the rails to increase friction.
Metro will run the trains all night to keep the tracks and wires clear of snow and ice build-up, but will not carry passengers after the regular weekday schedule ends.
Delay for MetroBus routes
If roads become icy and slippery, expect some delays on MetroBus routes. Just like other vehicles, they are subject to poor road conditions during snowy weather, and may take longer to reach riders.
Snow schedules for Metro Call‑A‑Ride
Call‑A‑Ride passengers should turn to TV and radio news to find out whether a snow schedule is implemented for paratransit service. Expect delays of up to two hours behind a scheduled trip if the snow schedule is in effect.  Metro Call‑A‑Ride passengers who think they may want to cancel a scheduled trip are urged to do so as soon as possible
Travel home safely
Snowy weather is beautiful, even as it wrecks havoc on St. Louis transportation. Just remember to dress warmly and be safe out there as everyone is heading home and traveling through our first snowfall of 2010.
Return to Blog
Categories:
Metro Lifestyle
,
Transit Benefits
,
Weather