December 2, 2014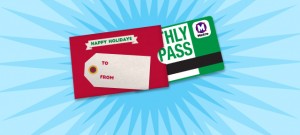 Trying to figure out the perfect holiday gifts for your co-workers, friends and family members? We have a great idea. Go green in 2015.
This year, Metro transit and Schnucks are partnering together to offer the gift of transit. A weekly, monthly or pack of 10 two-hour Metro passes will make the perfect holiday gift or stocking stuffer. When you purchase a pass at a participating Schnucks store or at the MetroStore in downtown St. Louis, you'll receive a special holiday Metro pass holder!
Still need convincing? The gift of transit comes with numerous benefits. Using MetroBus and MetroLink reduces congestion and improves air quality, it creates economic vitality for our region, it makes our community a better place to live, work and play and it helps save you money. How much money you ask? Check out our helpful fuel savings calculator.
For more information about giving transit as a gift and for a map or participating Schnucks locations, visit metrostlouis.org/holiday/.
Return to Blog