September 28, 2012
Go Metro to the Taste of St. Louis, Green Homes and Great Health Festival, and Other Weekend Events
Return to Blog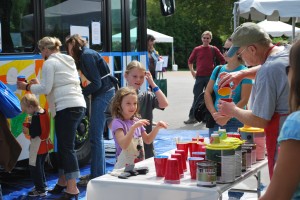 This is shaping up to be another busy weekend in St. Louis. The St. Louis Cardinals are back in town. The Taste of St. Louis is underway and runs through Sunday.  The Green Homes and Great Health Festival at the Missouri Botanical Garden is tomorrow and Dancing in the Street Festival takes place tomorrow in Grand Center.
If you want to be part of all the fun and festivities and want to save gas, avoid the traffic jams and not pay parking fees, take Metro. Walk to the bus stop or park your car at one of our free Park-Ride lots.
MetroLink is always a great option to get to the Cardinals games. Just hop off at the Stadium MetroLink Station or 8th and Pine Station, Convention Center Station, or Arch-Laclede's Landing Station if you want to grab a bite to eat at a downtown restaurant before the game or after the game.
Get on board MetroLink and MetroBus to get to Soldier's Memorial at 12th and Market for the Taste of St. Louis this weekend. The closest station to the Taste of St. Louis is the Civic Center MetroLink Station at 14th and Spruce. Eighteen bus routes stop at the Civic Center MetroBus Center so you have lots of options to arrive by bus. The next closest MetroLink Station is Union Station. Admission to the Taste of St. Louis is free and the event celebrates good food, art, live music and culture.
The 30 Soulard, 95 Kingshighway, and 80 Park Shaw are the MetroBus routes that will get you to Missouri Botanical Garden tomorrow. The Green Homes and Great Health Festival runs from 9 a.m. to 4 p.m. and one of the highlights will be painting eco-murals on a Arts in Transit MetroBus from noon until 2 p.m. on the East parking lot.
Take MetroLink to the Grand MetroLink Station and take the 70 Grand MetroBus to get to the Dancing in the Street Festival tomorrow at the Grand Center.
Go to our website to plan your weekend trips so you can relax and leave the driving to Metro. Have a great weekend.
Return to Blog