May 25, 2011
Going for A Walking Audit: See the Streetscape from a Human Scale
Return to Blog
We peered down the street, uncertain where to look. Then we could see it. The street itself almost melted away, and small, subtle details started jumping out. The nice way the trees created a canopy. The lack of slope on a sidewalk ramp, making it nearly useless for a wheelchair. The direction the pedestrian walk signal was pointing, or not pointing. The windowless building. The neighborhoody-feel of a simple awning. It was no longer just a street. It was a whole world.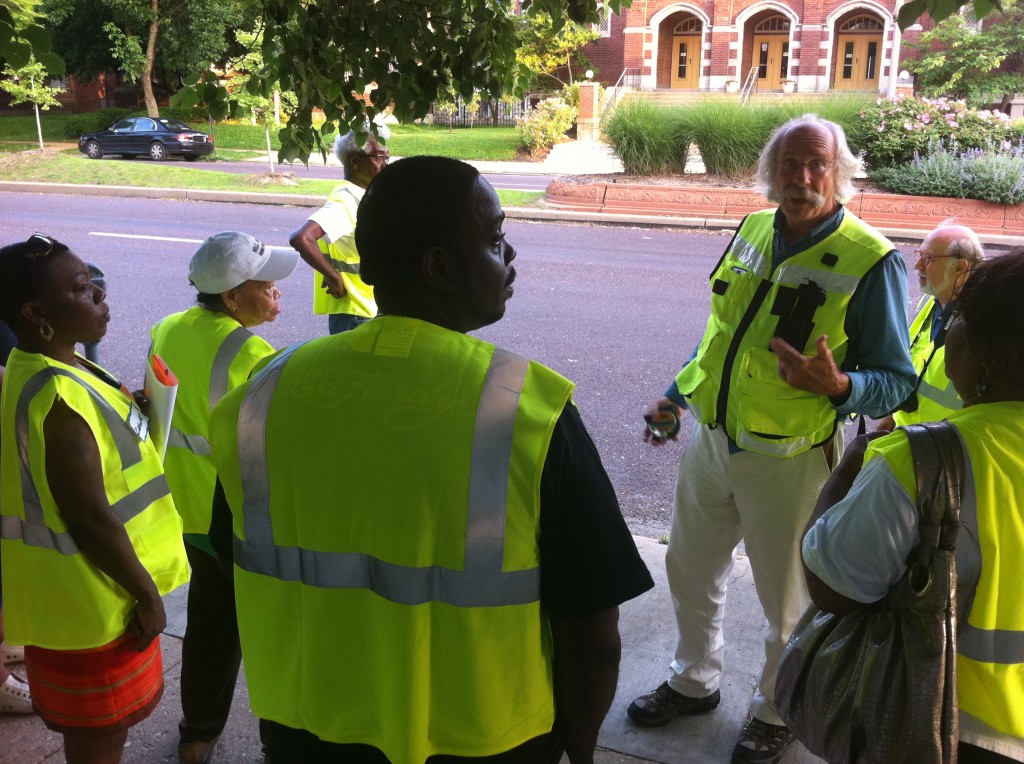 Yesterday, the organization Housing and Community Solutions, in partnership with Great Rivers Greenway and Trailnet, welcomed Dan Burden,  world renowned "walkability" expert to St. Louis City's 26th Ward for a series of lectures, workshops and walking audits. A walking audit doesn't sound like a transformative experience, given its business-like name, but it draws attention to the ways a street invites, or discourages, people using it to walk, bike or enjoy the neighborhood. The events were funded with a grant from the Environmental Protection Agency to promote sustainable communities. Monday and Tuesday, Alderman Frank Williamson, local residents, and even St. Louis City Mayor Francis Slay walked the streets of the 26th Ward, looking for possible problems and potential solutions for neighborhood improvements and redevelopment.
Burden illustrated that when the community envisions its future, it should picture all of these subtle details that make people want to walk and play in safety and prosperity. That means looking at realistic traffic needs, access to transit, good sidewalks, street-facing homes and businesses, and subtle touches such as awnings, attractive lighting, street furniture and bike lanes. By inviting residents to walk their own neighborhood, they were able to create a vision of what they valued and what could be done. Safety and security was a top concern, and Burden explained that often open, active streets are more safe than closed, walled ones. Open, active streets invite people, businesses and redevelopment. The group also placed a high interest in engaging local youth – getting more kids involved and invested so they take ownership of their community.
Walking audits can provide a wonderful opportunity for residents and advocates to come together and really engage one another on these community issues. It is also an empowering exercise, encouraging folks to take ownership and direction in their built environment, their home.  A walking audit doesn't have to be just on a street. It can also be used to evaluate transit access to a station or transfer center, or to gauge the welcome of a public park. I highly recommend that you ask your local city officials to take a walk with local residents and advocates, and look for ways that you can work together to encourage more people onto the streets. I hope that these human scale efforts can help inform not only transit access, but the entire fabric of our created environment.
Return to Blog
Categories:
Accessibility
,
Transit Benefits