January 7, 2011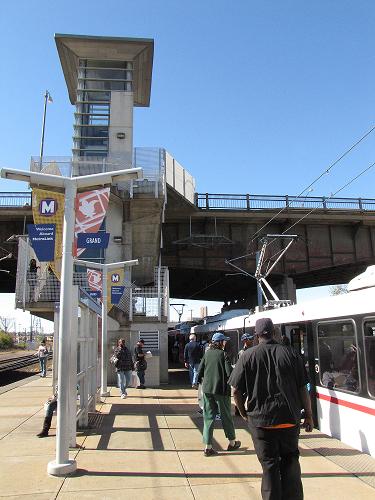 Remember how we told you, back in March, that the Grand MetroLink Station is about to see some major improvements when the City of St. Louis takes down the Grand Avenue bridge? That project is getting very close to starting now – the City believes construction (or rather, demolition) will begin in February or March of this year. (Remember, our project start is tied to the City's project.)
In the meantime, Metro has been updating the design and plans in response to policy decisions and input from our public and private partners. One major change that riders should be happy about: Metro has decided to leave the station open for the duration of the project. How will we accomplish that and still keep you, our customer, safe from the overhead construction?
Extending the platform, of course!
Metro will construct a temporary extension (east) of the MetroLink platform at Grand. The portion of the platform that is in the danger zone – where the elevator towers will be demolished as the bridge comes down – will be closed to passengers. Moving waiting passengers out from under the bridge will ensure passenger safety while keeping the station open. Moreover, the contractors will build part of the new park-ride lot first, so that buses coming to the station will be able to use the newly paved area as a drop-off area and turnaround when Scott Avenue is closed to traffic for the bridge demolition. Once the project is complete and buses are running on Scott Avenue as normal, the parking lot will be opened to the public for its intended use.
The plaza design remains essentially unchanged, except that restrooms are no longer included in the design. We investigated, convened committees, received pricing estimates on all kinds of options – everything from the standard-issue toilet to an automated, hi-tech self-contained unit, but as a matter of policy it was decided that the toilets will just be too expensive to maintain  and operate.
Expect progress updates here once the project gets underway.
Return to Blog