May 13, 2013
Greater St. Louis Air & Space Museum to Receive the St. Louis AIAA Civic Service Award
Return to Blog
Big congratulations are in order for the Greater St. Louis Air and Space Museum!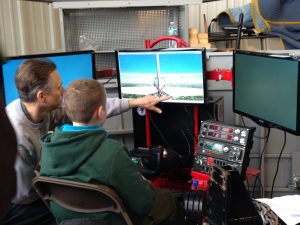 The St. Louis Section of the AIAA (American Institute of Aeronautics and Astronautics) selected the Greater St. Louis Air and Space Museum for the 2013 AIAA Civic Service Award. The award recognizes the museum's efforts to preserve and promote historic air and space artifacts as well as instilling the spirit of flight in today's youth.
This year alone, the Greater St. Louis Air and Space Museum has joined forces with the St. Louis Downtown Airport for two youth aviation days and is committed to teaching and promoting aviation history education. The museum has also held countless educational events throughout the year.
The award will be presented at the annual awards dinner on May 23.
The museum's blog pointed out that President Mark Nankivil was quick to credit all who have worked at and with the Museum throughout its three decades. "Congratulations to our Museum team and to those of you who have supported us through the years.  This award represents the efforts of all of you," Nankivil said.
For more information and museum visitor information click here.
The Greater St. Louis Air And Space Museum is located at St. Louis Downtown Airport. The Bi-State Development Agency/Metro purchased the airport at the urging of regional leaders in 1964 and reopened it in 1965. St. Louis Downtown Airport is one of the agency's business enterprises and is operated with no local taxpayer support. The businesses located at the airport generate a regional impact of nearly $584 million a year. 
Return to Blog