July 21, 2010
Help Laura Neuman-Howe Save the Flowers of Delmar MetroLink Station
Return to Blog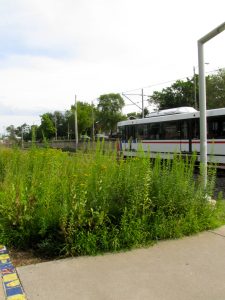 The fabric that makes up a community is not always woven from big, bold projects. Sometimes it is shaped by the passionate and consistent actions of one person or even just a few, doing their part to make St. Louis a beautiful and vibrant city. Laura Neuman-Howe of EarthShare Missouri is one of those people. In 2006, she approached Metro about planting and maintaining some flower beds at the Delmar MetroLink Station that a team of volunteers from University City had built in 1993 as part of the Art in Transit station-enhancement program. When the leader of the group left town in 2000, the beds fell to neglect with weeds and brush until Laura contacted Metro to offer her knowledge and her time to maintain the beds. She is looking for people to help her out Friday, July 23, 2010 7-9am at the Delmar Station.
The flower beds are viewed by hundreds, if not thousands, of people, including tourists who go to the nearby Pageant or the Loop or who park at the station to take MetroLink downtown. It's because of volunteers like Laura that we have such pockets of color and beautiful plant life throughout the region in community gardens and shared landscapes. Details like this help make St. Louis a more beautiful place to live.
But now Laura is moving and looking for a volunteer gardening team, ideally with a leader who both cares about perennial plants (many native) and knows a bit about them, to replace her efforts. Metro is willing to provide some labor for this task, even on Saturdays, but cannot provide the plant knowledge. The flower beds are currently occupied with a variety of pretty, hardy blooming perennials – liriope, lilies, hardy hibiscus, echinacea, and more. And A LOT of weeds. The bed along the sidewalk between the station and the parking lot and the bed along the westbound platform (along Hodimont Avenue) need the most attention.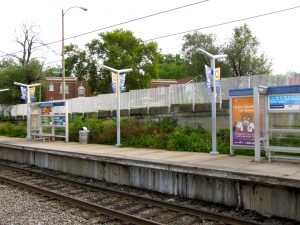 From Laura:
If any of you have interest or ideas on building a volunteer team, your assistance would be greatly appreciated. In the immediate term, I am planning to work with Metro folks on Friday, July 23, from 7-9 a.m. to clean up some of the weeds. But in the long term, I need to hand this over to someone else or Metro may turn it into mowed-weekly grass. If anyone wants to join us, then great, please do!
Metro employee volunteers will be out Friday, July 23, along with anyone else who can help. Thank you to Laura Neuman-Howe and all volunteers that are working to make our community a more beautiful place.
Return to Blog
Categories:
Metro Lifestyle