June 25, 2014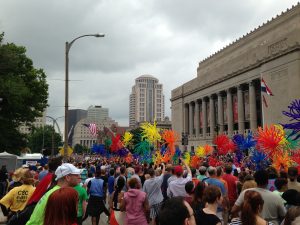 One of the many special activities offered at the St. Louis PrideFest festival this weekend in downtown St. Louis involves painting colorful murals on a MetroBus vehicle on Sunday afternoon.
The annual PrideFest event is an opportunity to learn more about equality in the community while enjoying a variety of food, music, entertainment, and other activities.
Where:  Bus will be parked on 14th Street between Market and Chestnut
When: Sunday, June 29 (MetroBus Painting Activity is only from 2-4 p.m.)
Cost: Free and open to the public
"It is wonderful to partner for the first time with the great people at PrideFest for their annual event," said David Allen, Director of the Metro Arts in Transit Program. "It's also a pleasure to team up with St. Louis artist Charlie Houska again. This is third art bus painting event we have worked with him on."
The murals feature multiple rainbows and colorful flowers from top to bottom.
"My art, as well as the inspiration for my Pride bus design, is all about fun," said Houska says. "Happy characters, all in bright, bold rainbow colors."
All ages are welcome to help paint the bus, which will join the Art Bus Fleet as part of Metro's Arts in Transit Program. The murals will stay on the MetroBus vehicle for one year and the bus will travel on various MetroBus routes throughout St. Louis and St. Louis County. The Art Bus Fleet Program partners Metro with non-profit organizations in the community like PrideFest to raise awareness for their organizations.
As one of the proud sponsors of PrideFest, Bi-State Development Agency/Metro will have a transit information booth at the event on Saturday and Sunday. The booth will be located near 13th and Chestnut Streets near the main music stage. For more information about PrideFest, visit pridestl.org.
Return to Blog
Categories:
Arts in Transit