November 23, 2011
Here Comes the 2011 Holiday Magic Train! Friday, November 25 – Saturday, December 31
Return to Blog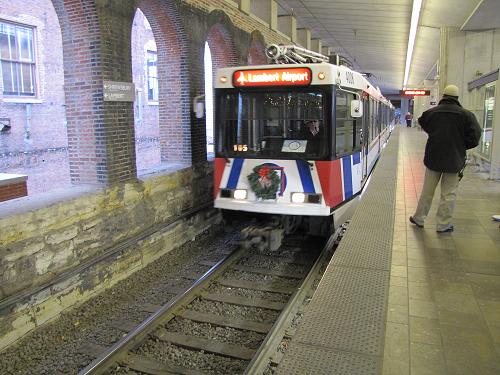 Last year marked the first year for the MetroLink holiday train in St. Louis, and we are proud to present the 2nd Annual Holiday Magic Train, brought to you by Metro and the Convention and Visitors Commission (CVC) of St. Louis for another holiday season!
The Holiday Magic Train is a partnership with the CVC to promote public transit, as well as the Holiday Magic event in America's Center December 2-4, and the holiday spirit in St. Louis. Last year, we heard wonderful comments from riders and Metro employees who enjoyed traveling on the festive train which was adorned with blue and silver Fleur-di-lis snowflakes. This year, the Holiday Magic Train will again travel on both the Blue and Red Lines from 4:30 a.m. to 6:30 p.m. Monday through Friday, and 10 a.m. until 7 p.m. on select Saturdays and Sundays.
Monday – Friday, Nov. 25 – Saturday, Dec. 31
4:30 a.m. – 6:30 p.m.
Mon, Wed & Fri Operates on Red Line (except Dec. 2 Blue Line)
Tues & Thurs Operates on Blue Line
Saturdays 10 a.m. – 7 p.m.
Dec. 3 & 17 Operates on Red Line
Dec. 10 & 24 Operates on Blue Line
Sunday, Dec. 4 & Sunday, Dec. 1810 a.m. – 7 p.m. Operates on Blue Line
Saturday, Dec. 24 & Saturday, Dec. 31
Operates from 10 a.m. – 7  p.m.
MetroLink will operate on a holiday schedule on these dates.
All times listed above are approximate.
This year, 88.1 KDHX will also present Rhythm & Rails, the on-board concert series for its second run this year, December 17-18. Details coming next week on the bands and concert schedule.
To all Metro riders and St. Louis community members and visiting families, we wish you a very warm and enjoyable Thanksgiving, and magical start to the holiday season! We'll see you on the Holiday Magic Train!
Return to Blog