February 24, 2014
Here's How Metro Can Get You to and From Soulard Mardi Gras
Return to Blog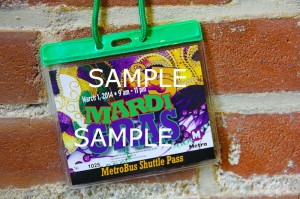 There are just five more days until the Mardi Gras Grand Parade and Metro is again pleased to offer a special shuttle to and from the festivities in Soulard.
On Saturday, March 1, Metro will operate a special Mardi Gras bus shuttle every 15 minutes from the Civic Center MetroLink Station at South 14th Street and Spruce Street to 10th and Carroll Street, near the venue of the Mardi Gras festivities. (Here's a link to the map.)
MetroLink will operate on a modified schedule so trains will not be running on the regular Saturday schedule.  If you're boarding at any of the MetroLink stations between Forest Park-DeBaliviere and Lambert Airport Terminal 1, between Forest Park-DeBaliviere and Shrewsbury-Lansdowne I-44, and between Fairview Heights and Shiloh-Scott, a train will arrive every 15 minutes. If you are getting on at one of the stations between Forest Park-DeBaliviere and Fairview Heights, then you can expect a train to arrive every 7 to 8 minutes.
Mardi Gras MetroBus Shuttle passes cost $5 per person and will be available for purchase only on March 1 and only at the Civic Center MetroLink Station starting at 9 a.m. These passes are valid for round trip travel on the Mardi Gras MetroBus Shuttle and are not valid for regular MetroBus or MetroLink service. You cannot use your Metro pass or Metro tickets to ride the special Mardi Gras shuttle.
The last MetroLink trains will leave downtown St. Louis at 12:30 a.m.
Just a reminder, you cannot bring food, drink, or alcohol on the shuttle buses or on MetroLink or MetroBus vehicles or on Metro property. Leave your backpacks and coolers at home because they are not allowed at Soulard Mardi Gras.
Convenient free Metro Park-Ride lots can be found near many MetroLink stations in Illinois and Missouri. To plan your trip on transit, click here. For more information on the Metro transit Mardi Gras bus shuttle schedule, please call 314-231-2345 in Missouri and 618-271-2345 in Illinois.
By the way, on the back of the Mardi Gras shuttle pass is a special offer from McDonald's. You'll want to check it out when you buy your special shuttle pass.
For 14 years now, Metro has provided Mardi Gras participants a safe and convenient way to get to Soulard. We're ready to let the good times roll. Have fun and we hope to see you on the shuttle.
Return to Blog