July 2, 2014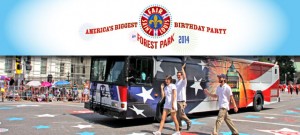 Before Fair Saint Louis kicks off its three-day celebration in Forest Park tomorrow, we thought it'd be helpful to answer a few common questions before you head down for the festivities.
Q: How far is it from the MetroLink stations to where Fair Saint Louis will be in Forest Park?
A: Two MetroLink stations are located 6/10 of one mile from the fairgrounds entrance–the Forest Park-DeBaliviere Station and the Skinker Station. We are asking customers who are taking a:
Blue Line train to Forest Park  to exit the train at Skinker and to return to the Skinker Station when they are leaving the fair.
Red Line passengers should get off at the Forest Park-DeBaliviere Station and go back to that station when they are ready to head home.
Metro is not operating bus shuttle services to or from Fair Saint Louis. There are no shuttles to the fair from any MetroLink station.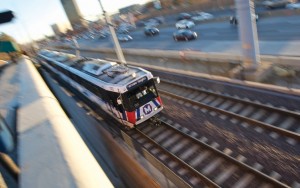 Q: How much will it cost to ride Metro to the Fair?
A: If you have a valid weekly or monthly Metro pass, you will not have to purchase another Metro ticket. A MetroLink One-Ride ticket will be $2.50 ($5 for the round trip). Purchase one ticket for the ride to the fair and a second one for the trip back. You will need to validate one ticket right before you board MetroLink to go to the fair. Validate the second ticket  as you are getting on the train to head home. MetroBus fare is $2; $3 for a transfer.
A Metro One-Day pass is $7.50 and it allows for unlimited travel on MetroLink and MetroBus on a given day. Metro offers reduced fares for seniors 65 and older and persons with disabilities, but they require a Metro reduced fare permit. The senior reduced fare permit can be obtained at MetroStore located 7th and  Washington in downtown St. Louis. Children 5 to 12 years old may ride on a reduced fare ticket. Children younger than 5 ride free.
Q: What adjustment is Metro transit making to accommodate the crowds?
A: We will be operating extra trains during the fair to accommodate the anticipated large crowds. Metro employees, supervisors and ticket agents will assist customers at several high volume MetroLink stations.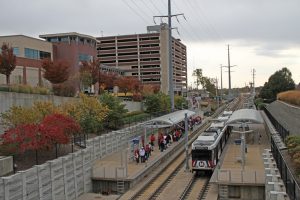 Q: Where am I supposed to park if I am taking MetroLink to Forest Park for Fair Saint Louis?
A: More than 10,000 free parking spaces are available for Metro customers and fairgoers at 20 MetroLink Station Park-Ride lots. About 1,200 are available on July 4 and July 5 at the Brentwood I-64 Meridian garages with customers able to park on all levels of both garages. Other large Metro Park-Ride lots include the North Hanley MetroLink Station with 1,700, Fairview Heights Station with 850, and Emerson Park Station with 800. More information about other parking options inside and near Forest Park can be found on the Fair Saint Louis website.
Q: How long should we expect to have to wait for a train at the end of the night?
A: We will get MetroLink customers on their way as quickly as possible and how fast that is accomplished will depend on the size of the fair crowds. We will do our very best to safely and efficiently coordinate the arrival of the trains and boardings so customers can be headed home as soon as possible.
It will take time though like after any major event, and fairgoers are asked to be patient and respectful of others while waiting in line for the trains and while on MetroLink. The trains will be crowded. If you have a stroller, you will be asked to fold it up before you are allowed to board.
Q: Will any regular MetroBus service be impacted by street closures for Fair Saint Louis?
A: Yes, several MetroBus routes will be affected by the Fair Saint Louis celebration in Forest Park. Those routes include the #1 Gold, #3 Forest Park Trolley, #13 Union, #90 Hampton and the Green Line. At the request of Fair Saint Louis, the #3 Forest Park Trolley and the #90 Hampton will not operate in Forest Park at all on July 4 and July 5 and will stop service in the park at 3 p.m. on July 3. Due to preparations for Fair Saint Louis, the #3 Forest Park Trolley will operate on a modified route on June 30, July 1, and July 2. During those three days, the Trolley will not serve Lagoon Drive or Fine Arts Drive.
Q: Are there any restrictions as to what I can bring aboard a MetroLink train or MetroBus?
A: Yes. Do not bring your cooler, alcoholic beverages, firearms or pets. They are prohibited on the fairgrounds as well. Only service animals are allowed on Metro vehicles. Also, you cannot eat, or drink or smoke (including e-cigarettes) on Metro vehicles or property. Since Metro vehicles may be crowded, if you are bringing a stroller, please be prepared to fold it up before boarding the train or bus.
Q: Can I bring my bicycle on the train?
A: You can transport your bicycle on MetroBus or MetroLink but you will not be allowed to take your bicycle on the fairgrounds. There may a lack of space in the designated bicycle areas on MetroLink due to full trains. Be prepared to be instructed to wait for a less crowded train. On MetroLink, Bicycle Parking Zones are located in the doorways at the rear of the first train car, as well as the front and rear of the second train car.
Only one bicycle is permitted in a Bike Parking Zone , unless the second bike is that of a child accompanied by an adult. Metro customers bringing bicycles on board are urged to allow all other passengers to board before loading their bicycles on the train car. Passengers must remain with their bikes and cannot park their bicycles on the steps.
Metro operators can't leave the bus or train to assist passengers with loading or unloading their bicycles. Bicycle racks which hold two bicycles are located on the front of all MetroBus vehicles.
Q: Will there be any extra security at the Forest Park-DeBaliviere Station or the Skinker Station?
A: Yes, extra Public Safety officers and uniformed police officers as well as undercover officers will be assisting Metro employees with crowd control particularly at those two stations. Customer safety is our top priority.
Q: Why is the Park-Ride lot closed at the Forest Park-DeBaliviere MetroLink Station during Fair Saint Louis?
A: The lot, which will be closed to the public Thursday, Friday and Saturday (July 3-5), will serve as the primary area where we will line up MetroLink passengers when the fair closes so we can get them safely and efficiently out of the park. The Metro Public Safety Department mobile command post as well as MetroLink maintenance will also occupy portions of the lot.
Return to Blog
Categories:
Metro Lifestyle