November 17, 2010
Holiday Magic Train Will Light Up St. Louis This Holiday Season
Return to Blog
Last year on Nextstop, we asked readers if they would like a holiday train in St. Louis, similar to the festive train that runs annually in Chicago.  The suggestion came from former Chicagoan and St. Louis blogger Jim Barnthouse. We received an overwhelmingly positive response, with many people sending emails, phone calls and social media posts in support of a holiday train for MetroLink.  We then updated readers with the promise of a holiday train in 2010. So…Little Drummer Boy drumroll please…
Metro is happy to announce our First-Ever Holiday Magic Express Nov. 26 – Dec. 31!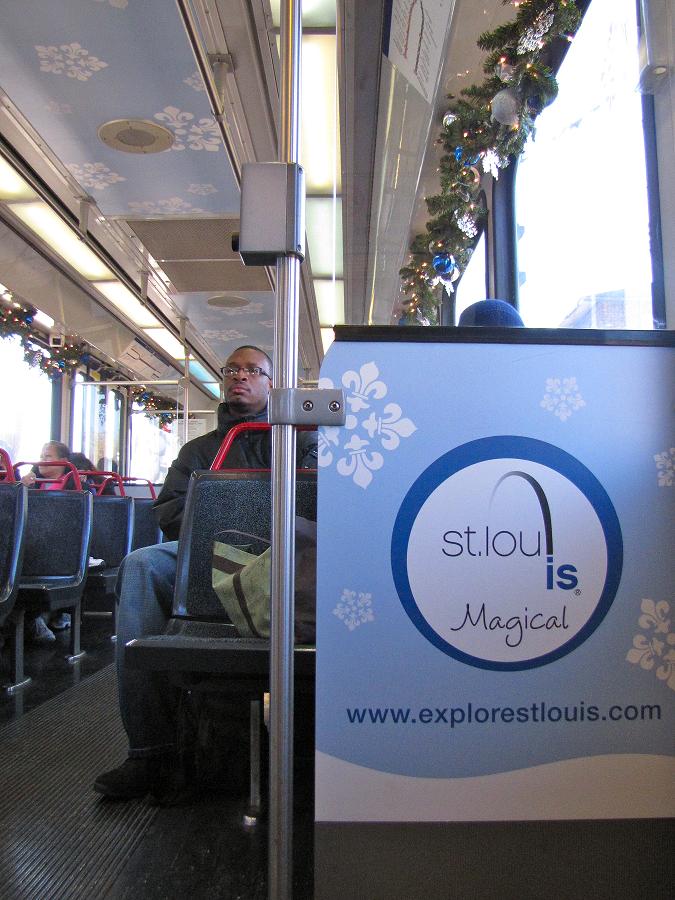 Thanks to the St. Louis Convention and Visitors' Commission (CVC), the Holiday Magic Train will be decked out in lights, ornaments, garland and festive cheer for the holiday season as part of the CVC's Winter Magic campaign.  The train will run from a.m. to p.m. rush hours weekdays and select weekend hours, alternating on the Red and Blue lines, as part of normal MetroLink service.
Holiday Magic Express Train Schedule
Mon – Fri Nov. 26 – Dec. 31    Start of service to ~ 6:30 p.m.
Mon, Wed, Fri – Red Line
Tues, Thurs – Blue Line
Saturdays ~ 10 a.m. – 7 p.m.
Dec. 4 & 18 – Blue Line
Dec. 11 & 25 – Red Line
Sunday, Dec. 5 ~ 10 a.m. – 7 p.m. – Blue Line
Friday, Dec. 24 & Dec. 31 will operate 10:00am-7:00pm. MetroLink will operate on a holiday schedule on those dates.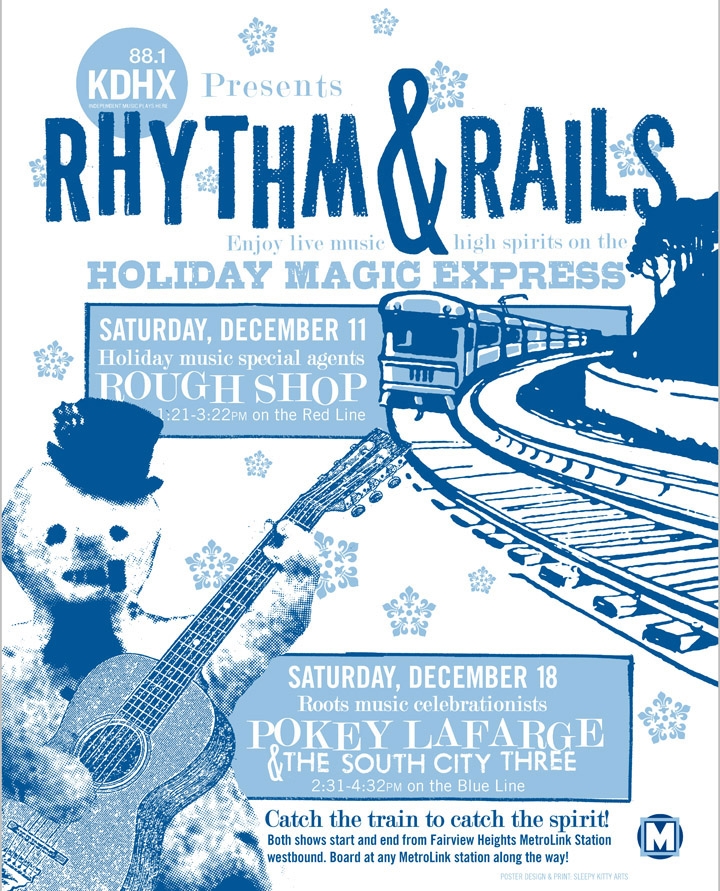 Rhythm & Rails On-Board Holiday Concert Series
Metro and 88.1 KDHX present Rhythm & Rails on the Holiday Magic Train, a live, on-train holiday concert series on Dec. 11 and 18 from approximately 2pm-4pm.  Riders, for the regular MetroLink fare, can enjoy the spirited sounds of St. Louis' Rough Shop on Dec. 11 and Pokey LaFarge and the South City Three on Dec. 18. Concert riders will receive a commemorative holiday postcard from Sleepy Kitty Arts.
Fares and Rider Information
Regular MetroLink ticket or pass fare required to ride Holiday Magic Train. Children under 5 years old ride free!
Holiday Magic Dec. 3-5 at America's Center
We also encourage riders to take the Holiday Magic Train to check out Holiday Magic at America's Center at the Convention Center MetroLink Station Dec. 3-5.  In addition to shopping, carnival rides, and a skating rink, Holiday Magic includes a trackless train ride and of course, Santa!  At on Saturday and Sunday, the Holiday Magic Express will have live holiday piano music!
Dec. 4 & Dec. 5, live piano music will play on the Holiday Magic Express from 1:21 – 3:23 Saturday on the Red Line and 2:31 – 4:32 Sunday on the Blue Line.  See the Rhythm & Rails Concert Schedule for identical Holiday Magic Express boarding times.
***
Special thanks to the CVC, KDHX, and all of our riders who expressed their support for a St. Louis holiday train.  We hope this is the start of a magical tradition for the St. Louis holiday season!
Return to Blog
Categories:
Metro Lifestyle
,
Transit Benefits