December 1, 2014
Holiday Music: Bayless High School, Kevin Mitchell 4 Perform
Return to Blog
Metro and the Holiday Magic Train are spreading holiday cheer this week.
You can find the festively decorated Holiday Magic Train on the Red Line on Mondays, Wednesdays and Fridays and on the Blue Line on Tuesdays and Thursdays this month. But, that's not all.
Bayless High School Xpression will perform a 30-minute concert at 5 p.m. tomorrow (Dec. 2) at our Shrewsbury-Lansdowne I-44 MetroLink Station. The performance is free to the public. The students will perform by the bus bays near the elevator on the lower level.
---
Scroll down to watch Bayless High School Xpression perform Frosty the Snowman.
---
On Saturday, Dec. 6, you can enjoy the jazz and swing sounds of Kevin Mitchell 4 on the Holiday Magic Train. The live music  begins at 12:59 p.m. at the Shrewsbury-Lansdowne I-44 MetroLink Station, and the group will perform while the train travels on the Blue Line to the Fairview Heights MetroLink Station and then will arrive back at the Shrewsbury Station at 3:04 p.m. (Schedule below).
Our holiday photo contest will add a little spice to your MetroLink commute during the holiday season. You are invited to take pictures at special areas on the train for a chance to win free tickets to a St. Louis Rams game.
The Holiday Magic Train is a partnership between the St. Louis Convention and Visitors Commission and Metro transit. This is the fifth year the train has been in service on the Red and Blue MetroLink Lines.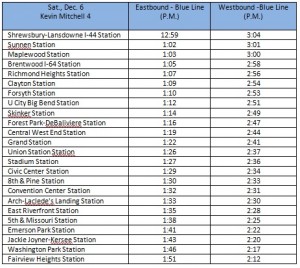 Return to Blog
Categories:
Metro Lifestyle