December 24, 2009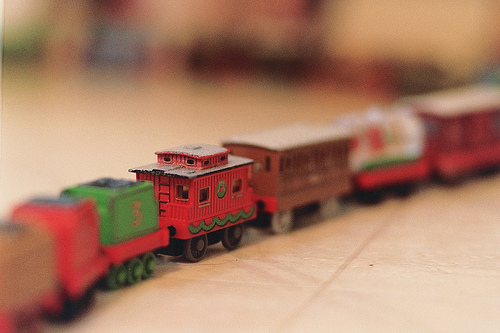 Happy Holidays to everyone!  Please don't think that I have forgotten about the holiday train.  We had an overwhelmingly positive response, from the hashtag #stlholidaytrain on Twitter (I Tweet under the handle @STLTransit; Metro's official feed is @STLMetro), to the emails and blog posts we received.:
Hi, my name is Adam, and I am a student at Wash U.  I just read about the possible Metro Holiday train this year.  I think this is a great idea, and I urge Metro give public transit users the joy of holiday-themed travel.
Adam H.
Washington University 2012

I would just LOVE a holiday train!!! Will you pleeeease make it happen! It would be so wonderful.
Lori E. W.
As an advocate for public transportation and an avid cyclist, I would definitely appreciate a Holiday Train as part of the Metrolink in St. Louis. The train can bring a vibrant spirit to the passengers and encourage shared use of our beloved light rail system. I suspect others in the St. Louis area would experience joy, community, and a little ridiculousness from the addition of a holiday train. It might just be the transit of the season. If I needed to warm up with some holiday cheer, I would certainly hope I could stand on a platform, with a look of longing down the tracks, eagerly awaiting the sounds and sights of a decked out Metrolink Holiday Train. I would ride that from Lambert to Shiloh-Scott and back again…with a valid pass or transfer in hand, obviously. I might even decorate my bicycle to match.

Thank you for listening. Happy Holidays and much transit love,
Rachel
After speculating on all the details of pulling it together (looking at the window and ceiling specs for lights, running times, added security) we realized we need time and sponsorships to put together a great holiday train.  One thing is clear from your responses and from examples in other cities: holiday trains can be a really magical experience for transit riders.  We want to make that happen for St. Louis.  And remember, no matter what the future brings, the Holiday Train will not take money away from transit service operations.
So thank you for all of your emails, blog posts, tweets and thoughts.  You inspired and excited many people here at Metro, including myself, and we will be working to bring you the best holiday train that we can in 2010.  Some people here spend every day with riders; others' jobs keep them working behind the scenes.  But comments, emails, Tweets like these…they are wonderful reminders of the people and things we work for every day.
We wish a warm and happy holidays for all of our readers and riders.  We wish safe travels for everyone!
Return to Blog
Categories:
Transit Benefits