July 13, 2010
Honey, Where's My Metro Pass? Art Installed at St. Charles Rock Road MetroLink Station
Return to Blog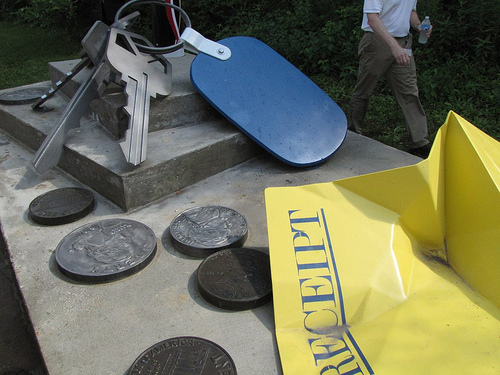 .Most of us have been there.  We're sitting on MetroLink and the fare inspector is making her way down the aisle.  Quick, where did we put our Metro pass?  We ruffle through our backpack, empty our pockets, and apologize profusely until we produce the pass or ticket triumphantly from its deep hiding place.  That moment, common to many Metro riders, was the inspiration for the new art sculpture installed at the St. Charles Rock Road MetroLink Station, Honey, Where's My Metro Pass?, by local artists Nick Lang and Thad Duhigg.  Lang and Duhigg, both of the Department of Art and Design at Southern Illinois University and Edwardsville, worked with student apprentices from St. Louis ArtWorks to create the concept for the piece. Today, the artists, students and staff from ArtWorks, Metro employees and supporters gathered at the Rock Road Station to dedicate the sculpture, which is fabricated in bronze, steel and aluminum.
ArtWorks student apprentice Aaron Hamilton, who is completing his fourth year as a summer apprentice, joined in the celebration. During a 2007 summer art class led by Lang and teaching artist Allen Kmetz at ArtWorks, the students provided concepts, designs and models that helped inspire the sculpture.  The students began studying MetroLink passengers to look for common objects that could be used to represent their commuting experience.  The apprentices then created artistic models to illustrate them.  Honey, Where's My Metro Pass? includes a set of keys and keychain, coin change, a stick of lip balm and a crumpled receipt.  As part of the St. Louis ArtWorks program the apprentices earn minimum wage while working five days a week on art projects that will be sold or shown publicly.  This sculpture, a collaboration between local artists, youth, and the arts community, will now be available for all transit riders in St. Louis.
The sculpture is part of Metro's Arts in Transit program that seeks to enhance communities and the transit experience through public art that appears throughout the design and environment of the transit system.  What's your favorite piece of public art on the Metro system?
Return to Blog