October 1, 2009
For many of us, the first step to using public transit is planning our trip. Maybe you've thought about using the trains and buses to get to some of your favorite destinations…out to dinner, back and forth to work, the ballgame, to a friend's house.  But you weren't sure which buses and trains to use, and certainly when you catch them. Metro has TripFinder software on our website, and now you can also use Google Maps to plan your ride.
Say I'm interested in meeting a friend for dinner at Blueberry Hill after work. What's the best way to get there? First, I go to Google Maps and type in my destinations, and hit "Get Directions."  I don't need to know the address for Blueberry Hill – Google will fill that information in.
On the left hand side of the screen, below the destination fields, select the field "By public transit", as shown below: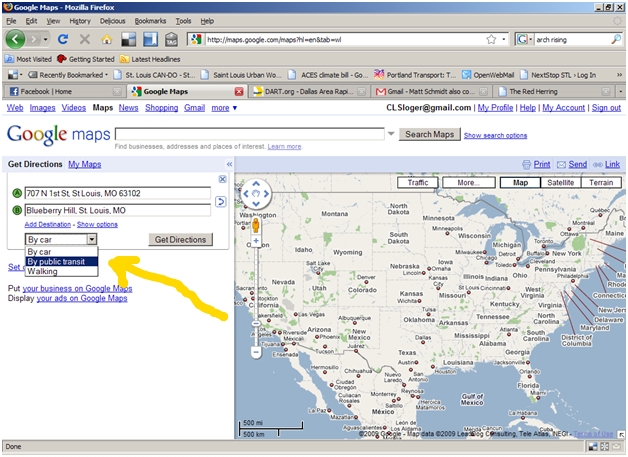 Hit enter, and Google will provide you with several options involving various combinations of taking a train, bus, and walking.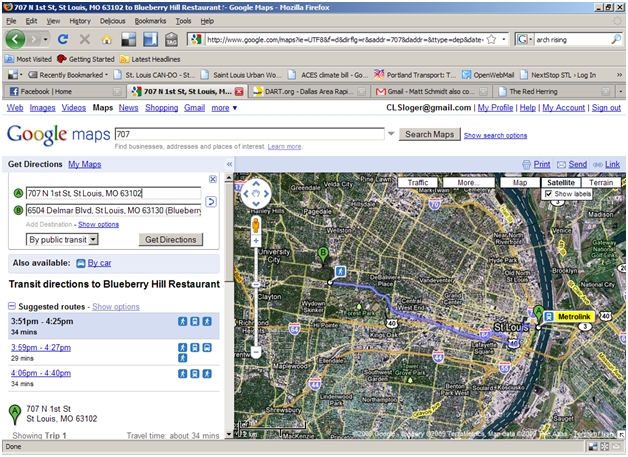 Now I have to choose – do I want to take the train and walk, as indicated by the first option, or take a bus?  Since I'm still wearing my work shoes, let's take the bus!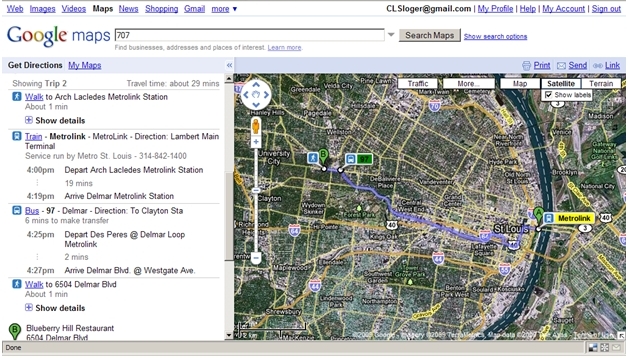 The directions tell me to take the train from the Arch Laclede's Landing station to the Delmar Station on the Lambert Main terminal line (the Red Line).  Then, I'll catch the #97 Northbound (the bus marque will read "To Clayton MetroLink Station") and get off right in front of Blueberry Hill.  According to Google, it should take me around 29 minutes.
But since it is a beautiful fall St. Louis day, maybe I'll walk instead: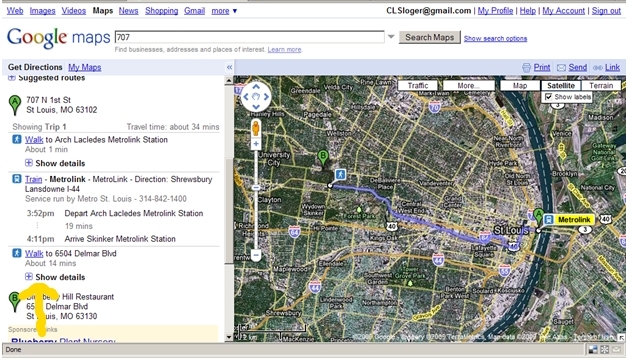 With these directions, I will take the Shrewsbury line (the Blue Line) to the Skinker station and walk to Blueberry Hill.  If I click on the "Show Details" button shown above, I get a better idea of my route.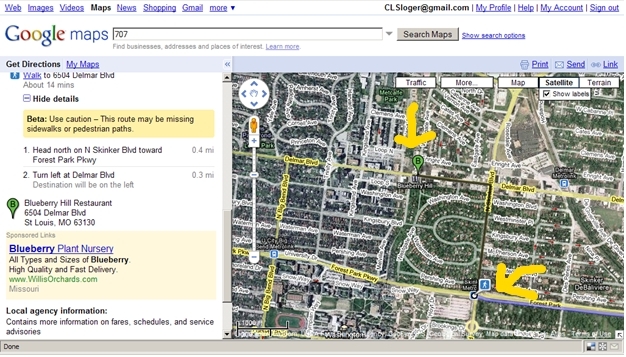 So now I know exactly when and how I can use public transit to get to where I need to go.  You can also view Google Transit directions your smart phone.  Isn't technology great?
Have any other questions on how to use Metro?  Email [email protected].
Return to Blog