How would you tell Metro riders about upcoming service changes?
Return to Blog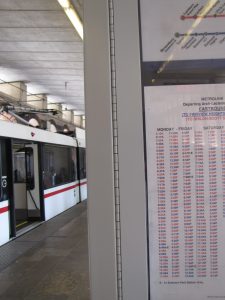 As we've mentioned several times on Nextstop, Metro will be enacting the first phase of Restoration 2010 service changes on June 28.  For thousands of Metro customers their usual trip times and connections will change next Monday.  If you have a smart phone with a transit planning app or regularly use Google Transit, this may be an easy transition, but many of our customers do not have regular access to the internet or do not use it as a trip planning tool.  When more people have access to service change information, it increases the likelihood they can adjust their routines and avoid missed connections.
Getting the word out to customers can be a challenge for public transit agencies.  We have our spaces in buses for schedules and rider alerts in buses, word of mouth from bus operators, and automated alerts at MetroLink stations.  We also have online communication means through the website, blog, Facebook, Twitter and e-newsletter.  Hopefully, local media will also pick up on the story and remind readers of the upcoming changes.  With a diverse group of people using transit, you need multiple methods of communication.
What do you think are some creative and effective ways to reach customers?  How would you let riders know about service changes?  Where would you post information?  Where do you go to find out about schedule changes?  Who are some effective community partners that could help us push information out, not only for the June 28 changes but also the more extensive service changes coming on August 30?
Creative suggestions are highly welcome.  Hopefully we can use your input to let as many people as possible know about the increases in service coming next Monday and the rest of the year.
Return to Blog
Categories:
System Changes