April 28, 2020
Innovation and Teamwork at the Forefront of Metro's COVID-19 Response
Return to Blog
As the COVID-19 crisis began to take hold in the bi-state area, Metro Transit team members rose to the challenge with innovative ideas and solutions to keep their colleagues safe while keeping the region moving.
Custom-Made Polycarbonate Shields
Metro Transit instituted a number of new policies and operational changes to protect passengers and transit operators during this pandemic. The idea for one of the newest measures came from the creative minds of our vehicle maintenance team.
"A lot of the grocery stores were putting up these shields, and we decided to design something like this to help protect our bus operators," said Dale Schaefer, Metro Transit Director of Quality Assurance and Training. "We have a very creative team. If we could get the materials, we knew we could design, fabricate and install custom shields on our buses."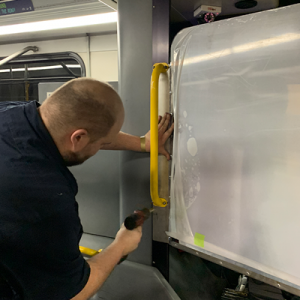 In mid-April, the team began producing and installing polycarbonate shields for the MetroBus fleet. These shields were custom-designed and fabricated in-house by our vehicle maintenance team using a water jet cutter.
"We acquired this water jet cutter about 5 years ago so we wouldn't always have to rely on manufacturers for parts," Schaefer said. "It allowed us to shape the polycarbonate so it is tailor-made to fit our buses."
The new MetroBus shields consist of three metal components and a polycarbonate panel. Once all of the pieces were fabricated, they were distributed to the bus facilities as a kit for installation, which took 15 to 20 minutes per shield.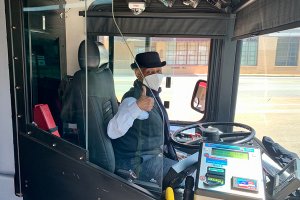 The vehicle maintenance team completed installation of the custom shields on approximately 300 buses in the Metro Transit fleet within a couple weeks. The remaining 100 buses in the fleet came from the factory with enclosed operator cabs, and did not require the new shields.
We are currently working with our transit partners at Madison County Transit in Illinois and MTA in Nashville, Tennessee to help them produce shields for their bus operators.
Sewing Masks for Operators
Throughout the organization, team members have been contributing their time and efforts to support their colleagues. In between shifts, MetroBus and Metro Call‑A‑Ride operators are putting in additional hours to cut out, pin together and sew fabric masks for team members.
Others have donated sewing machines and fabric to the cause and help bring the masks to life. These masks will be used as a backup for our KN95 supply to distribute to team members and help keep them and our passengers safe, today and after the crisis has passed.
"As our region faces one of its most difficult challenges, our employees have stepped up in a truly unprecedented way to serve the community and support one another," said Jessica Mefford-Miller, Executive Director of Metro Transit. "All of these efforts are a testament to their dedication and selflessness, and I am extremely proud to be a part of this amazing team."
Visit MetroStLouis.org/health to learn more about all of the steps Metro Transit has taken to protect transit riders and employees during the COVID-19 pandemic.
---
See more photos in the slideshow below.
Return to Blog
Categories:
COVID-19
,
Metro Lifestyle
,
Team Metro