February 16, 2011
Instructional Rider Alerts Out On MetroLink and MetroBus to Help Educate Passengers
Return to Blog
If you have ridden MetroLink or MetroBus recently, you might have seen a series of new rider alerts aimed at educating passengers on what to do in case of an emergency on a bus or train. The posters are part of an ongoing campaign to help educate passengers, first responders like police and fire, and community and federal partners on how to handle an emergency on Metro.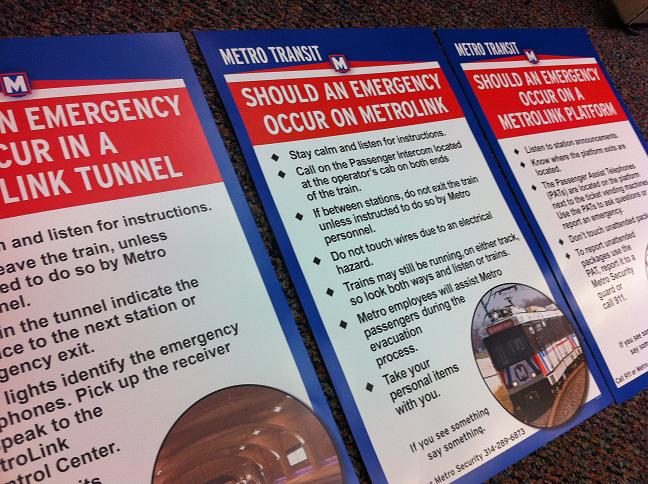 The series of rider alerts include information on what to do in an emergency occurring on a MetroLink train, on a station platform, in a MetroLink tunnel, during a MetroLink delay, or on a MetroBus. In addition to the posted passenger alerts, our Safety and Customer Service departments distribute emergency guideline brochures to customers who request schedules, to MetroBus operators, at the Metro Ride store, and to first-responders as part of emergency training with the fire and police departments.
You might also see ongoing information to better educate Metro riders on how certain aspects of the system operate. Examples of posted information include how MetroLink platform heaters work, the purpose of platform barrier testing, and soon to be posted, information on how the door release buttons operate on MetroLink trains.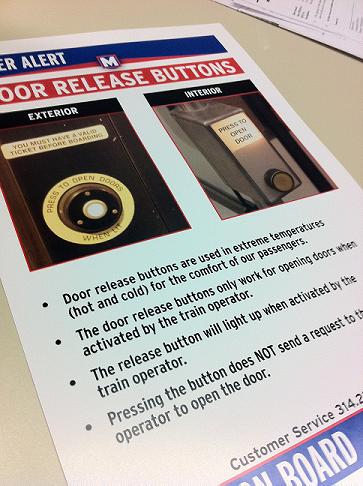 Metro will continue to post rider alerts that highlight system functionality over the coming months.  The alerts are designed to educate passengers and alleviate questions and concerns submitted to Customer Service.
Have you seen the Emergency Response or Instructional Rider Alerts?  What other information would you post to help educate passengers?
Return to Blog