Introducing the #99 Downtown Trolley!
Return to Blog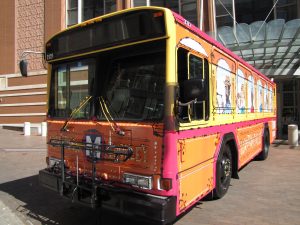 July 1 marked the official first day that the newly wrapped #99 Downtown Trolley MetroBuses began rolling through downtown St. Louis.  The trolley-style wraps for the buses were provided by the Partnership for Downtown St. Louis and the St. Louis Conventions and Visitors Commission (CVC).  At the unveiling this morning at the America's Center at Washington Avenue and 8th street, an enthusiastic crowd gathered to see the Downtown Trolley and take a tour on its new route.
Passengers included City Guides from the Partnership for Downtown St. Louis (yellow shirts and bikes) and employees, CVC representatives, individuals working with hotel and attractions, as well as local residents.  Steve Patterson of Urban Review STL came along; a lot has changed since the first time we toured the #99 route.
Wait, it isn't a "real" trolley? No, the Downtown Trolley route is serviced by a 30-foot MetroBus with a colorful vinyl wrap on a new route and with a varied fare structure. Some have asked why Metro isn't using trolley buses if it is the called Downtown Trolley? The main reasons are cost and infrastructure. We were able to use buses from the existing MetroBus fleet instead of buying and maintaining costly new vehicles. The Downtown Trolley is a demonstration project. If proven successful as a downtown service, Metro will take a look at next steps, such as extending the route or using bigger or different vehicles.
The #99 Downtown Trolley will provide service to the downtown area from 5:30 a.m. to midnight Monday – Friday and from 7 a.m. to midnight  on Saturday. Stops along the route include the Civic Center Transfer Center, the Old Courthouse, the Convention Center MetroLink Station, City Garden, Washington Avenue, City Museum, Soldier's Memorial and St. Louis City Hall. Check out the #99 map for complete route. An all-day fare is $2 for adults, $1 for children 5-12, seniors and disabled; all Metro passes and transfers are also accepted. So for $2, people from or visiting St. Louis can travel throughout the downtown area all day.
Here's hoping that the #99 Downtown Trolley is a successful service for downtown and St. Louis transit!
Return to Blog
Categories:
System Changes
,
Transit Benefits