July 31, 2009
Service restoration is approaching! We are getting excited about all of the new and restored routes that will start operating on the 3rd of August. To give you a little taste of what's to come, we went out to investigate the #8 Bates Macklind, a new route bringing you the best of South City. Boy, am I excited about this bus route! It was a beautiful drive on a sunny summer afternoon. We put together a little slide show of the route for you:
(Click here if you are unable to see the embedded slide show.)
The route heads south from the Central West End Transit Center through the heart of the Forest Park Southeast neighborhood, following the old #92 Macklind route. After stopping in the heart of the Grove neighborhood with all its shops, restaurants, bars, and galleries, the bus will head east on Shaw, passing Missouri Botanical Gardens along the way (along with personal favorite of mine, World's Fair Donuts). The Hill neighborhood, which lost much of its bus service in March, will have service restored along Shaw and Macklind. The #8 Bates Macklind passes by restaurants and groceries, homes, schools, and even a friendly neighborhood hot dog stand in this old Italian neighborhood. From The Hill, the bus heads south down Macklind, past the St. Louis State Hospital, through blocks and blocks of the bungalows and shotgun houses that characterize South City.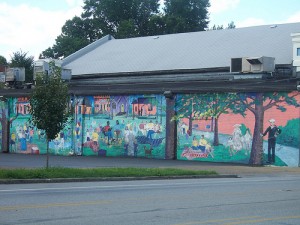 At Loughborough, the #8 turns southeast. Along Loughborourgh and Morganford, the route passes many cemeteries and residences on its way through the Holly Hills neighborhood.  It turns east along Bates, passing a few culinary hidden treasures along the way, including Yummy's Chicken and Cones, where place with lot of character serving delicious food at 1950's prices, and my perennial favorite, El Burrito Loco. (I'm really into this place. Can you tell?) The bus then heads south on Grand through Carondelet Park, and down Loughborough past Loughborough Commons. The route finishes up on South Broadway in Carondelet, a part of the city that I had never been to and was delighted to discover. This area has a "Main Street" feel with 1880's architecture. One great find was the colorful mural on the wall of the South Public Supermarket. The Catalan Loop marks the southern end of the #8, ready to serve River City Casino once it is completed.
And this concludes our little tour of South City on the #8 Bates Macklind. We hope you enjoyed the ride!
Return to Blog