April 13, 2011
It's Not the Mode, It's The Behavior: Addressing Problems in the Delmar Loop
Return to Blog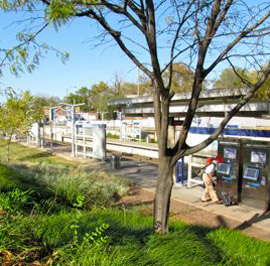 Metro, along with other business and residents in the Delmar Loop neighborhood, are working with law enforcement and elected officials to deter incidents of illegal or disruptive behavior like those that occurred last weekend. It is important that this vibrant area continues to attract residents and visitors to its many great assets.
Some people have expressed an opinion that public transit is the reason for the recent problems. But the problem is not the mode of travel.  Whether people who engage in unlawful behavior arrive by foot, car or public transit, the problem that needs a solution is the behavior. We have an opportunity, as a community, to come together to focus on real solutions to this problem.
What role does Metro play? Metro Security, including St. Louis City and St. Louis County police officers hired by Metro, will continue to patrol Metro property and check to make sure passengers are paying proper fares while providing safe and reliable public transit access for the residents, customers and employees who shop, eat and work in the Loop neighborhoods.
As a neighbor and business in the Loop, Metro will continue to work with community partners, and focus on our mission to meet the region's transit needs by providing safe, reliable, and accessible service for everyone.
Return to Blog