April 18, 2013
Join Metro Transit at the St. Louis Earth Day Festival Sunday With an Art Bus Painting
Return to Blog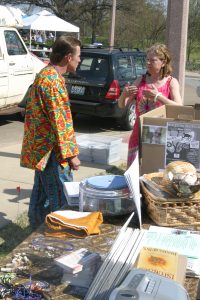 The St. Louis Earth Day Festival is right around the corner! No, you don't need to pull out your flower power headband, or Birkenstocks! The St. Louis Earth Day vision is: "Engaged people and organizations make everyday sustainability real and permanent for St. Louis."
The St. Louis Earth Day Festival will be celebrated Saturday evening, April 20 from 4 p.m. to 7 p.m. at The Muny in Forest Park and on Sunday, April 21,from 11 a.m. to 6 p.m. at The Muny grounds. All Sunday events are free and open to the public. A $5 donation is suggested ONLY for the Earth Day Eve event Saturday night.
As a key partner of St. Louis Earth Day, Metro Transit will have a booth Sunday on Sponsor Row near The Muny's main entrance on Theatre Drive. Come visit for one-on-one transit consultations, giveaways and hourly raffles of Forest Park Trolley passes!
There are lots of great events this year. At noon, Sunday, you can join in a St. Louis Earth Day tradition by representing your favorite species (or combination of species!) in a parade around The Muny grounds of Forest Park.
Also Sunday, you can check out the latest fuel-efficient cars on the market, including fully electric cars and vehicles that run on alternative fuel.
From 2 p.m. to 4 p.m. Sunday, join Metro Transit as we celebrate Earth Day with a MetroBus painting. You can help paint colorful murals on a MetroBus designed by Matty Kleinberg and Eric Woods at The Firecracker Press in St. Louis. The finished collaborative masterpiece will travel around the St. Louis area displaying artful Earth Day messages for a full year! Anyone, at any skill level, is encouraged to stop by and help paint the Earth Day art bus!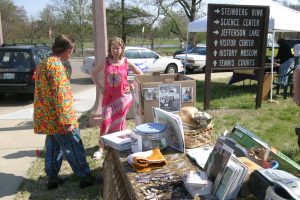 Also as part of the 2013 St. Louis Earth Day Festival, the 3rd annual Recycling Extravaganza, (or REX!), will be accepting your hard-to-recycle items from 10 a.m. to 4 p.m. on the St. Louis Community College Forest Park campus parking lot, off Oakland Avenue. All are invited to load up their cars, trucks or bicycle baskets with any (or all) of the items that will be collected by one of a dozen partnering non-profit organizations or recycling companies. For more information on what you can recycle plus all the St. Louis Earth Day Festival activities and events, click here.
Getting to the St. Louis Earth Day festivities is easy using Metro Transit. The Festival grounds are only a ½ mile from the Forest Park-DeBaliviere MetroLink Station. You can catch the Forest Park Trolley from the station. For $2 dollars, you can ride the trolley all day to all the park attractions. Or you can walk southeast past the History Museum and the Visitors Center towards The Muny. Click here for walking routes to the Festival from the MetroLink Station.
Return to Blog