December 16, 2010
Join Riverboat Blues Pokey LaFarge on the Holiday Magic Express
Return to Blog
This Saturday, Dec. 18, KDHX Presents Pokey LaFarge and the South City Three, a ragtime blues band from St. Louis on the Holiday Magic Express.  Pokey LaFarge and his "riverboat soul" sound was recently named "Best Local Band Album of 2010", "Best Local Band to Go International" and "Top 10 Best Albums of 2010" by The Riverfront Times.
Join Pokey & The South City Three for a rousing on-board concert of holiday, train and St. Louis songs.  Look for the Holiday Magic Express and Pokey LaFarge on KSDK's Show Me St. Louis on Friday at 3 p.m.
After the concert, music and transit fans will gather at Bridge Wine and Tap House for spirits, snacks and good company. People will begin arriving at 4:30 p.m. Come hang out and meet Metro personnel and staff members of KDHX. Hopefully, we can get Pokey and his band to join us before their concert at the Sheldon.
The concert will begin on the westbound Holiday Magic Express train leaving the Fairview Heights MetroLink Station at 2:31 p.m. Saturday.  Admission is free with regular MetroLink fare or pass.  Here is a schedule of when it will arrive at your MetroLink station along the Blue Line: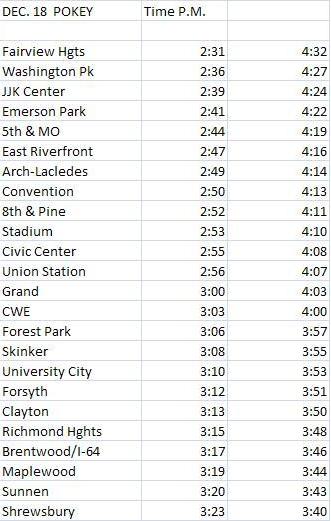 Big thanks to Rough Shop the band for making our first major concert on Holiday Magic Express a big success!  Thank you to everyone who came out to listen to the music, and to the passengers who encountered this happy surprise.
Rhythm & Rails Concert Schedule
Saturday, Dec. 18 – Pokey LaFarge & the South City Three
(Blue Line)
Departs Fairview Heights MetroLink Station at 2:31 p.m.
Intermission at Shrewsbury MetroLink Station at 3:23 p.m.
Returns to Fairview Heights MetroLink Station at 4:32 p.m.
The concert series will play in only one car; passengers seeking a quieter ride may sit in the other designated train car.
Return to Blog
Categories:
Metro Lifestyle