February 26, 2015
KSDK's Heidi Glaus Gets a Behind the Scenes Look at MetroBus Ads
Return to Blog
Advertising on MetroBus vehicles is a great way to get your message out in the Bi-State region whether you are an ad agency, a company, or a not-for-profit organization.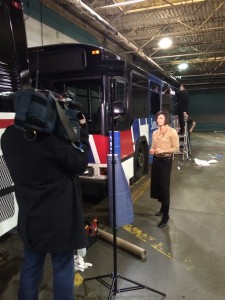 The ads range from small to extra large to fit any budget. With a MetroBus fleet of nearly 400 vehicles, you can't help but notice our buses out on the streets 21 hours a day in the St. Louis area.
If you have ever wondered how we put those ads on the buses, you are not alone.That was the question KSDK's Heidi Glaus received for her "Hey Heidi" segment. So, we gave Heidi a behind the scenes look at how it's done and she even gave it a try.
If you are interested in transit advertising, please contact our Marketing Department by calling 314-982-1486 or by email at [email protected].
Return to Blog