June 20, 2011
Last Generation to Know St. Louis Streetcars Are First To Age With Metro: What Are the Coming Transit Needs of The Baby Boomer Generation?
Return to Blog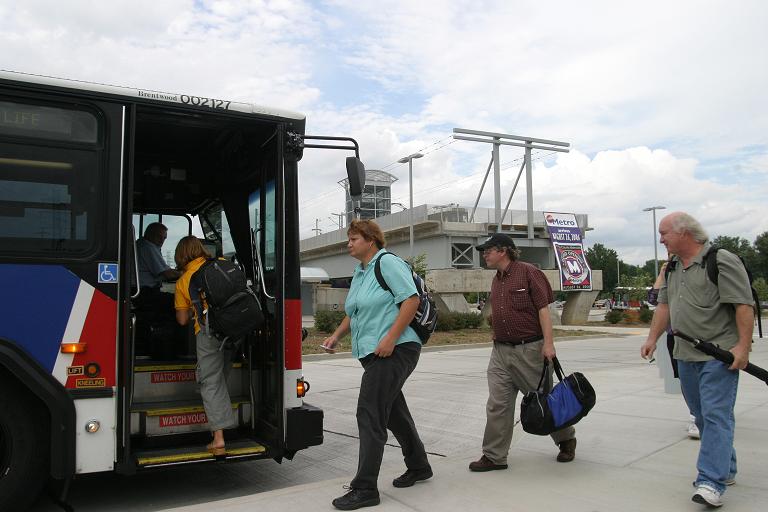 This is a monumental year for St. Louis public transit. Not necessarily for the Agency, but for our riders: the last generation to see St. Louis streetcars, & the first to know Bi-State Transit, will turn 65 this year.
The Baby Boomer generation is beginning the large wave of senior growth across the country, and with a large aged population comes new challenges and opportunities for the region. As of 2008, 45-64 year old makes up 46% of all MetroLink riders – nearly a majority. Clearly, the needs of this generation will be a strong decider in the transportation priorities in the years to come.
Last week, Transportation for America released a report called Aging in Place: Stuck Without Options to highlight the upcoming trend. According to a report published by the group on June 14, "By 2015, more than 15.5 million Americans 65 and older will live in communities where public transportation service is poor or non-existent." The report finds that 67% percent of the population 65 to 79 in 2015 in the St. Louis bi-state region will have poor transit access. The report defines poor transit access, for a metro area between 1-3 million residents, for seniors who on average have fewer than 1.7 bus, rail, or ferry routes within walking distance. The report does not include paratransit service, which is a critical component of serving the aging and disabled population.
The St. Louis region, especially in older suburbs, have rapidly aging populations (like other Midwestern cities), and how they choose to live their lives will shape the future of the region. Many Boomers may decide to sell the house in suburban areas and move into smaller, denser communities surrounded by their friends, culture and opportunities for easier mobility. But most will probably want to stay in the communities that they live, even if they were based around the automobile and have less walkable streets. If they do decide to stay in their homes, how will they access transportation if driving is not an option?
What do you anticipate that the Baby Boomers' needs will be in terms of transportation and public transit? Better station access? Different approach to route planning? Do you think America is planning for these needs? What can public transit agencies like Metro do now to meet the anticipated needs of our aging population?
Return to Blog
Categories:
Economic Development
,
Metro Lifestyle