March 7, 2012
Legislative Alert: U.S. Congress Discussing the Future of Federal Public Transit Funding Now
Return to Blog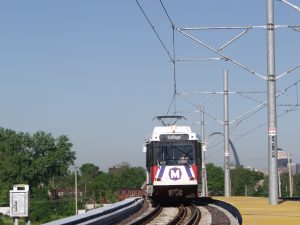 The conversation on the future of transit at the federal level has heated up again. The U.S. Senate is now considering amendments to their two-year Highway Transportation Bill, including provisions for federal public transit funding. Meanwhile, the U.S. House of Representatives met today and agreed to continue funding transit through the Highway Trust Fund.
Safe, Accountable, Flexible, Efficient Transportation Equity Act: A Legacy for Users (SAFETEA-LU), the current federal transportation funding bill, is set to expire on March 31st. Congress can either pass a new transportation bill or pass a continuing resolution to keep in place the current SAFETEA-LU.  While conversations in Washington, D.C. are focused on the future of transportation in America, we want you to speak up for public transit.
Let your local elected officials know that public transit funding is important to you. Encourage them to to support transit funding at the federal level on your behalf, and thank them for the work they do in supporting public transportation in St. Louis.
Senator Roy Blunt
314-727-3548
Senator Claire McCaskill
314-367-1364
Congressman William Lacy Clay
314-383-5240
Congressman Todd Akin
314-590-0029
Congressman Russ Carnahan
314-962-1523
Congressman John Shimkus
618-344-3065
Congressman Jerry Costello
618-397-8833
More people are turning to transit as a viable transportation option. Our ridership in St. Louis is up over 8 percent and growing. New technology and capital projects are scheduled for transit in St. Louis, including the new Scott Transit Plaza at the Grand MetroLink Station, new North County Transit Center, and GPS systems on all MetroBuses. In addition Metro is studying new bus stop signage, changes to the Civic Center Transit Center, and bus rapid transit options. Now is NOT the time to jeopardize stable funding for transit providers.
Congress needs to address the nation's transportation needs with sensible, sustainable options.  President Ronald Regan put into place funding for transit out of the Highway Trust Fund.  This dedicated funding stream has built and maintained efficient transit systems across the nation.  Workers rely on these transit systems to get to their jobs.  We encourage transit riders and transit supporters to speak out and let Congress know that stable transit funding is the right choice for the St. Louis region.
Return to Blog