March 6, 2014
Live Chat Recap: Articulated Buses, Commuter Rail, Service Frequency
Return to Blog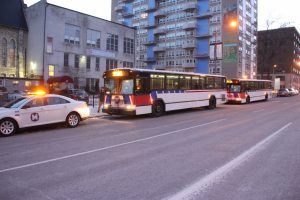 Bi-State Development Agency Chief Operating Officer of Transit Services Ray Friem and Chief Transportation of Planning and System Development Jessica Mefford-Miller conducted our monthly live chat on the St. Louis Post-Dispatch website at noon yesterday.
The hour-long online discussion had no set topic, but instead addressed various topics from MetroBus and MetroLink service frequency to capitol projects such as articulated buses, commuter rail and future MetroLink expansion. Below is a sample what was discussed:
Q: Any chance of seeing shorter intervals between trains on the MetroLink during non-rush periods?
A: Metro continues to monitor passenger loads on MetroLink, including during off-peak hours when trains operate every 20 minutes on the Red and Blue Lines (every 10 minutes between Forest Park-DeBaliviere and Fairview Heights Stations). The decision to increase service would involve increasing the operating cost for MetroLink and re-scheduling (and possibly increasing frequency) on connecting MetroBus routes, which are timed to meet MetroLink trains. At this time all of our operating resources are put into service, so we would have to see an increase in demand and availability of operating revenue to provide such a service increase.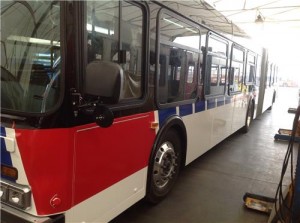 Q: When do you think the articulated buses will be running on the Grand route?
A: Metro plans to introduce 60′ articulated buses on the #70 Grand route on June 9, 2014. Initially we expect to have at least five buses on the route, and by the end of summer 2014 all buses on the route will be the new 60′ articulated buses. We are currently working with the manufacturer to complete production, including paint. Check out this preview (photo on the left) from the production facility earlier this week.
Q: With Jackson County entering into agreement with Union Pacific for purchase of portions of two lines for commuter rail. What is being done in St. Louis Metro to get a better commuter option for our residents?
A: Metro's long range plan, Moving Transit Forward, does include two possible options for commuter rail in the region. Significant modifications to the rail infrastructure would have to be made before commuter rail could be a viable option. Right now, commuter trains could not operate quickly and reliably enough on these corridors. These conversations and decisions are playing out now at the state and federal level, and Metro remains part of that conversation.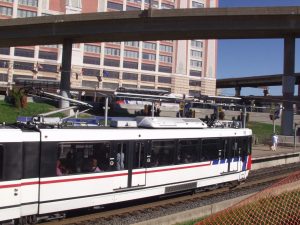 Q: Have the articulated buses been test in St. Louis weather? I heard from my relatives in Chicago that they are breaking down in the cold and all the snow.
A: All buses require maintenance and Metro St. Louis is recognized for having one of the best vehicle maintenance programs in the world. The buses do represent some challenges, for example we have had to modify lifts and other equipment to permit proper maintenance of these buses. Frankly, we are excited by the challenge, but are not worried about our ability to keep these buses in top shape.
Articulated buses are in use in many Northern cities, with good success. Pittsburgh, Cleveland and Buffalo for example all have far more snow events than St. Louis (in a normal year) and none report having problems operating these buses.
Q: With the density of South St. Louis, do you project ridership for the Southside MetroLink — Jefferson/55 or De Soto, take your pick! — will come close to matching operating costs (note: not including initial construction costs)?
A: The short answer is no, we would not expect that the line would fully recover operating costs. Transit everywhere requires support for it to exist. Metro does pretty well among mid-size cities, recovering 22 percent of costs from the riders. We would expect that any new extension would do at least that well.
Click here to read the entire online discussion. If you have any additional questions, please comment below and we'll try our best to answer them for you. In the future, join us for the Live Chat on the first Wednesday of the month at noon.
Return to Blog