September 23, 2014
Local Artists Invited to Enter MetroBus Shelter Competition
Return to Blog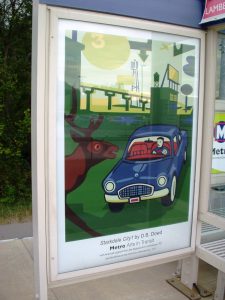 Artwork created by local visual artists may be coming to a MetroBus shelter near you.
Metro's Arts in Transit program, in conjunction with Lamar Advertising, is seeking artwork that can be reproduced as large-scale, two-dimensional posters. Arts in Transit will select at least 10 two-dimensional images created by 10 artists for reproduction in large-scale poster form for installation in over 200 MetroBus shelters.
Artists from around the St. Louis region (residing within 50 miles of St. Louis) are invited to submit up to three images for consideration. Posters will be displayed through 2015. Each artist will be paid $500 for use of their original image for one year.
Images derived through two-dimensional media will be considered, including but not limited to: photography, painting, printmaking, illustration, collage, and computer generated graphics. The overall size of the printed posters will be 69″ x 48″.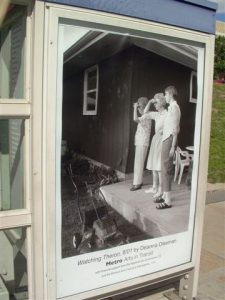 In addition to the selected image, the poster will include the title and date of the work,  name of the artist and city of residence. The credits on the poster will also include: MetroScapes Presented by Metro Arts in Transit and Powered by Lamar Advertising.
Images will be reviewed by a panel comprised of artists and art professionals who will recommend at least 10 of most appropriate images for reproduction and publishing.  The criteria for selection will be:
Quality of the work
Appropriateness for display to the general public
Intriguing, thought provoking, inspiring, entertaining, enduring image or content
Image clarity
Artists interested in submitting artwork should provide up to three digital images (low resolution jpg) on a CD along with a cover letter with their contact information and an image list with artist's name, title of the work, date the work was completed, medium of work and short description of the artwork. If selected for reproduction/publication, images will need to be resubmitted as a high resolution PDF.
Artists whose work is selected will be required to enter into a letter of agreement with Metro Arts in Transit for the limited copyright use of the image for public display for one year, rights to the image for reproduction for non-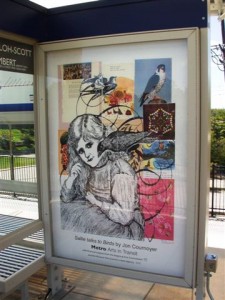 commercial purposes, and attest that the artist is the sole creator of the work.
The deadline for receipt of submissions is 5 p.m., Tuesday, Oct. 21. Entries must be received by this date, not just postmarked.  Submissions will not be returned. Entries may be hand delivered or mailed up to the deadline to:
Metro Attention: David Allen 707 North First Street MS 146 St. Louis, Mo. 63102  
If you have any questions, please leave a comment below.
Return to Blog
Categories:
Arts in Transit