Map of Proposed Transit Service Restoration for St. Louis Metro Transit
Return to Blog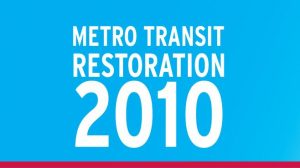 St. Louis Metro Transit Proposed Restoration Routes April 2010
Here is the map that Metro's Planning Department is presenting at our public meetings.  The map provides a rough outline of what the proposed changes would look like on a regional map.  Please review along with the proposed route changes for Phases 1-3, and consider answering the following questions for our planning department:
MetroLink or MetroBus route:
Destination and arrival/departure time:
How may we improve service on this route?
Do you have any other ideas on how the Metro System could be made to better suit your needs?  Please feel free to include additional comments about specific MetroLink or MetroBus routes, or to suggest a new route or type of service.  Metro is also interested in improving the customer experience throughout the system with additional bus shelters and benches, more lighting, improved passenger information and more informative bus signs, etc.  Do you have any specific recommendations for these types of passenger amenities?

We appreciate it! Leave comments here, or email to restoration2010@metrostlouis.org.  Thank you for your time and feedback in helping us bring better service to St. Louis.
Return to Blog
Categories:
System Changes